Adrian J Cotterill, Editor-in-Chief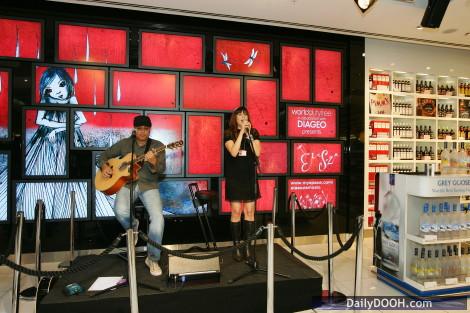 I am not sure what is worse – all the (thick) Bezels ruining the graphics behind this shot or the self styled new-made-up-word 'Contentainment' used by World Duty Free to describe what they been doing at T5.
The press release tells us "In a bid to take customer experience to a new level, this month World Duty Free will be showcasing an up-and-coming music artist as part of their 'Contentainment'* offering at Heathrow Terminal 5"
Nice idea though and well executed, good example of 'retail theatre' – perhaps even in its truer sense 😉
Ela Soza (shown above) brings a mixture of pop, folk and soul notes to the event, which is recorded live and then played out (also live) across 5 locations in Terminal 5 over 118 screens.
It's all part of a campaign to attract additional artists and also as a sponsorship opportunity for World Duty Free's brand partners.
*Launched at the opening of Terminal 5 in March this year, World Duty Free's 'Contentainment' concept brings together four elements. Hi-definition feature walls, with relevant digital signage, mood ambient audio and quality merchandising, all presenting World Duty Free the brand, the store and the brand partners' product in a more creative and inspiring way. Measuring seven metres wide by four metres high, and comprising 24 x 40" Sony LCD screens mounted in portrait and landscape formats, the wall creates the equivalent of one giant high resolution display.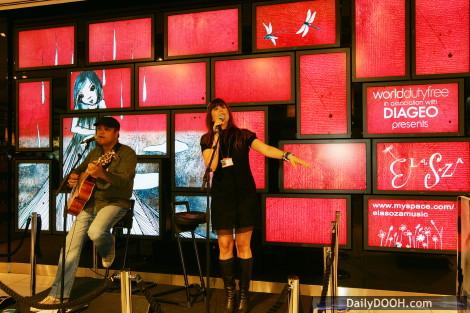 Jo O'Connor, Commercial and Marketing Director, World Duty Free told us (and seriously we nearly fell off of our chair when they kept using the C word here) – "Digital out of home media is growing rapidly and being able to use our 'Contentainment' function in this live way will not only provide a stage for singers such as Ela, but also provide opportunities for our key business partners to sponsor future acts, whilst offering a innovative platform for their brands."
Despite the C word and all those bezels we quite like it though!