Adrian J Cotterill, Editor-in-Chief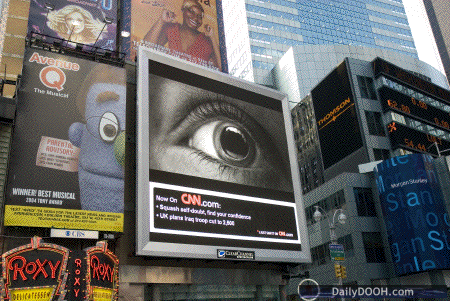 I don't believe that this is going to come to Europe, Middle East or Africa any time soon but it is well worth having a look at anyway. This is the new Spectacolor solution in Times Square, New York.
I have been asked by a few to make a clear picture of what large digital screens (48 sheet and above billboard size) we have in the UK so here below is an exhaustive list.
17 x Titan Transvision
10 x Clear Channel 'Magink'
see www.clearchannel.co.uk/digital
3 x Clear Channel LEDs (1 x flagship LED screen at Piccadilly Circus, 1 x Earls Court LED and 1 x Bristol LED)
2 x Ocean Outdoor (actually owned by Forrest Media)
1 x Posterplus
1 x City Gateway Media
That's 34 in total.
38% of these belong to Clear Channel.
As mentioned previously on this blog, JC Decaux are going to roll out another 20 Large Screens in the UK in 2008, Forrest Media have announced plans for more also as have Clear Channel.
Clear Channel's flagship LED screen at Piccadilly Circus in particular is well worth a mention. It includes a Sky News ticker and CGI content featuring some of London's greatest landmarks
LG is the long term solus advertiser at the site and the screen often 'reveals' new LG's products as well as profiling LG's sporting partners – Fulham and Arsenal Football Clubs.