Gail Chiasson, North American Editor
iHealth Lab Inc., Mountain View, California, and Withings, a French startup, are both introducing blood pressure monitoring devices linked to the iPhone and iPad at the Consumer Electronics Show in Las Vegas this week.
iHealth Lab Inc., a pioneering designer and manufacturer of digital personal healthcare products, in introducing the iHealth Blood Pressure Monitoring System for iPhone, iPod touch and iPad.
Comprised of a hardware dock, blood pressure arm cuff and iHealth App, this breakthrough product lets users self-monitor their blood pressure from the convenience of their home, and share the results with friends, family and most importantly, their doctor.
Regularly monitoring blood pressure in a relaxed, consistent setting gives users the most reliable information on the status of their cardiovascular health. A recent report from Kaiser Permanente found that patients doing self-monitoring of their vitals were 50% more likely to have their blood pressure under control.
"Empowering people to manage their personal healthcare is our passion," said Yi Liu, CEO, iHealth Lab. "The future of health management starts with the individual. By identifying how daily activities affect one's vitals like blood pressure and heart rate, people can be more proactive about their personal healthcare."
The iHealth Blood Pressure Monitoring System lets users measure and track their blood pressure and heart rate. The system comes with a blood pressure arm cuff and a portable, battery-powered dock allowing for quick and easy set up. The dock also doubles as a charging station for all three iOS devices.
The companion iHealth App includes an easy-to-use interface with data and graphics that allow the user to view their blood pressure numbers, track them over time, and run reports. Users can easily access previously recorded data sets, view patterns by date and time of day and create custom graphs and charts, then share the results.
The iHealth Blood Pressure Monitoring System (battery-powered docking station and blood pressure arm cuff) is available for $99.95 from iHealth99.com. The companion iHealth App is available for free from the App Store on iPhone, iPod touch and iPad, or at www.iTunes.com/AppStore.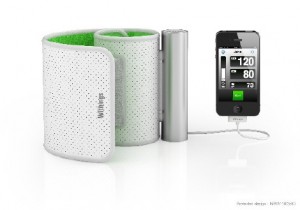 With the Withings Blood Pressure self-measurement monitor, all data measuring and understanding of the user's blood pressure is recorded and saved to the user's secure online space for easy measurement access and retrieval through their iPhone, iPad or other screen connected to a user-friendly interface.
When the user connects the cuff to the iPhone, the Withings application launches automatically. You simply slide on and tighten the armband around the arm above the elbow, then touch the start button on the iPhone to begin. The Withings Blood Pressure Monitor automatically averages measurements to produce significant results.
A flip of the iPhone allows access to measurement history and averages. For later retrieval, one simply accesses his secure online space at withings.com or launches the Withings application on the iPhone/iPad/iPod.
Through the Withings API, specialist partners can interface with the platform to offer additional services, as Withings has already proven with its WiFi Body Scale and partners such as Google Health, Microsoft HealthVault and numerous health & sports coaching websites such as DailyBurn.com, RunKeeper.com, FitOrbit.com, gymtechnik.com, aujourdhui.com, Strands.com, Danholt4mac.com, Jogmap.de, and many more.
Says Withings co-founder Cédric Hutchings, "Our goal is to take the drama out of using devices that can promote healthier lifestyles for all. We have achieved this with our Withings body scale, and are now repeating our success with the Withings Blood Pressure monitor."
The Withings Blood Pressure monitor works together with an iPhone / iPad / iPod touch. It is priced at €129 or US$129, will be available in January, 2011 on wwww.withings.com
Withings Blood Pressure Monitor can be seen at CES North Hall/ Booth #3619. iHealth's Monitor is being shown at Booth #3536.