Gail Chiasson, North American Editor
Shoppers looking over the latest wireless devices at Alaska Communications stores in Anchorage Alaska, are using MicroSigns' digital pricing displays to get the rich, detailed and accurate information they need to make buying decisions.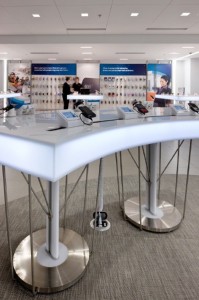 MicroSigns digital merchandising displays – small interactive LCDs that replace paper fact sheets on display counters – are now operating at Alaska Communications' new flagship retail store, which opened Dec. 4. The regional wireless carrier will equip additional stores with MicroPlayer displays in 2011.
This marksthe first installation by Montreal-based MicroSigns in the U.S.. The company already has installatios in Europe.
The networked displays are set on demo counters immediately beside featured phone handsets. Customers use integrated touch buttons to page through extensive detail – in text, images and video – about each device's key features and technical specifications. The MicroPlayers also carry accurate pricing, service plans and accessories information. Each is tied securely through the MicroSigns management network platform into the Alaska Communications 'back-office' system that manages the steadily fluctuating SKUs, rates and promotions typical in wireless retailing.
"Our technology is much more than just screens," says Michael Palmer, MicroSigns' co-founder and CEO. "There is a whole system behind it that really pays off for retailers and their staff."
"For those of us who are updating information from the corporate office, within five minutes we can add new information and have it seen in the retail space," says Angela Cummings, marketing manager for Alaska Communications.
When sales associates are engaged with other customers, shoppers can spend that waiting time using MicroSigns displays to independently research handsets and service plans, and filter their choices. That speeds up the product education and transaction process for both buyers and sellers.
MicroSigns' bundled hardware and software platform is specifically designed to improve the buying experience and add efficiency, accuracy and more engaging shopper marketing for wireless retailers and their manufacturing partners.
The 4,000-square-foot flagship store is the first Alaska Communications store to feature signature architecture branding and interactive service experiences.
"One of the things I like most about this project is how our technology fits so nicely into the clean lines of the store design," says Palmer. "I also appreciate the determination our client had to give its customers a streamlined, information-rich experience."

"This store is a significant milestone for us," says Marla Thompson, Alaska Communications' vice-president of consumer sales & service. "We worked with our partners at Anchorage-based kpb Architects to incorporate an innovative design that reflects our new brand, It represents our ongoing commitment to expand our retail presence in Alaska and provide our customers with a unique, hands-on retail experience. We want it to be a place for people to shop, learn and be inspired."
Low-wattage MicroPlayers also contribute to Alaska Communications' eco-friendly business practices, by minimizing energy consumption and reducing the paper waste of 'fact tags' at each featured handset station.
MicroPlayers are 3.5- inch color LCD screens with built-in media players. They support video, animations, images and text, allowing marketing efforts from broadcast, online and print to be extended all the way to the shelf-edge in stores. Running on the networked MicroSigns management platform, featured devices, promotions and pricing can all be managed remotely from a web browser – delivering dramatic improvements in efficiency and accuracy for retailers.
Alaska Communications is Alaska's leading provider of broadband and other wireline and wireless solutions across businesses and consumers. The Alaska Communications wireline operations include the state's most advanced data networks and the most diverse undersea fiber optic system connecting Alaska to the contiguous United States. The company's wireless operations include a statewide 3G CDMA network, reaching across Alaska from the North Slope to Ketchikan, with coverage extended via best-in-class CDMA carriers in the Lower 49 and Canada.