Gail Chiasson, North American Editor
Duluth, Georgia–based NCR Corporation has showcased a new kiosk enclosure, engineered with a sleek, modern design during the National Retail Federation Annual Convention and Expo being held Jan. 11-14 I New York.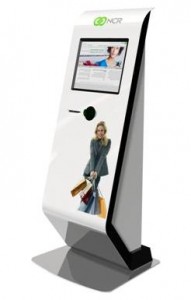 The new NCR SelfServ Slimline enables retailers to makes it easier for consumers to shop seamlessly across multiple channels, while giving them a more interactive, self-service user experience in-store.
"Every element of the new design is focused on the consumer, making its use in a variety of self-service solutions approachable and natural," says Lyle Sandler, NCR vice-president, design and consumer experience. "The enclosure establishes a new aesthetic that is complementary to both contemporary store design and visual merchandising displays, in order to encourage consumers to engage with self-service solutions as a positive aspect of their total shopping experience."
NCR SelfServ Slimline is designed for consumers who now want to be able to connect with a retailer out of the store – for example, on the Internet at home or on a mobile device – and then continue their shopping journey in-store. This converged shopping experience is being delivered by applications including Endless Aisle, where retailers can bring online shopping into the store, and Customer Loyalty, which enables retailers to extend the reach of frequent shopper programs quickly and consistently across channels.
The growing demand for kiosk-based solutions was reinforced by findings of an October 2010 RIS News report, 2010 Cross Channel Tech Trends Study: Maximizing Leverage Across Channels, where 75 of retailers say that deploying Endless Aisle capabilities in their stores is a top three cross-channel priority for 2011, up from 25% in 2010. Through Endless Aisle, customers can easily order out-of-stock items at an in-store kiosk or select from an expanded base of merchandise online and have it shipped to their home or to the store.
The SelfServ Slimline is based on NCR's proven SelfServ 60 kiosk hardware, which provides exceptional performance and superior energy efficiency. Matched up with NCR's Netkey digital signage software, which uses a proven, scalable architecture that enables fast and flexible application development, retailers are able to quickly develop and deploy converged channel solutions.
Integrated peripherals and devices include a standard 17" all-in-one touch screen with integrated motion sensor, speakers, dip-reader and thermal printer. Custom options include an imaging scanner, PIN pad and full-page printer. Future releases will include integrated digital signage options designed to engage customers with rich, multimedia content.
The NCR SelfServ Slimline is also designed to be flexibly customized, readily adapting to store brand schemes. Retailers can easily wrap or customize the kiosks to complement their existing brand identity.
The new kiosk was designed by NCR's Customer Experience Consulting team and can be seen at the BIG Show's Booth #1903.