Russ Curry, Ministry of New Media
Despite the best efforts of Lufthansa, Eurostar & Thalys*, a total of 28 people from five European countries showed up at the Content Day yesterday here in Paris – when you think that 35 people registered and we had one latecomer who we did not count in the total, it's a fantastic turnout, Ed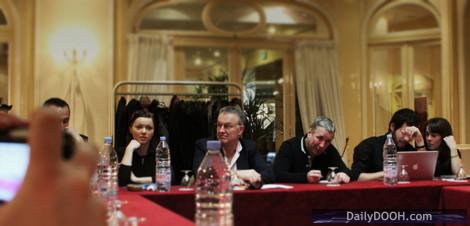 The idea of the unconference† proposed by DailyDOOH late last year was to have an informal gathering of various players involved in creating and delivering content for DOOH networks; to exchange ideas and best practices and generally chin-wag about the state of the market and how it might evolve.
While some attendees regretted the absence of an agenda and presentation guidelines, the unconference format worked incredibly well for what it is only the second meeting of its kind. The increase in numbers is a tribute not only to the interest aroused by the first meeting hosted by Ramvision in London, but also by the hard work and enthusiasm shown by Guillaume and his BlueFox team, to Ooh-tv and the DailyDOOH in drumming up interest and talking up the event and showing the importance of events such as this.
We were treated to presentations by…
BlueFox                     Guillaume de la Tour       France
Carlipa                       Ambre Taillandier            France
Dagobert                   Alexandre Bonaldi            France
Futuramedia           Fabrice Desprats                France
Grassfish                 Daniel Gasser                    Austria
DS-CCC                   Thomas Gregorsitza        Germany
Neoadvertising       Julio Pla Bueno                  Spain
People Interactive  Nicolas Campos               Germany
Pixel Inspiration      Barry Bugg                          UK
Ramvision                  Savvas Tombouloglou    UK
TMM                          Michel Baronnier          France
TMT Factory             Mireia Busquets               Spain
The wide variety of presenters (network operators, integrators, creative agencies…) and presentation styles (and from 5 different countries) was truly eclectic end exceedingly interesting. The informal atmosphere led to a healthy exchange of views, with each presenter fielding a range of highly pertinent questions from his peers.
Everyone that I talked to left the room more than happy with the experience and looking forward to the next event, which may take place either at #ScreenMediaExpo in May in London or in six months time in a different city – Barcelona being one popular suggestion!
Guillaume and his team are to be applauded not only for taking the initiative in organising the event, but also FUNDING IT fully (meeting room, video equipment, breakfast & lunch). The idea of getting together a bunch of competitors in the same room and persuading them to share experiences and best practices seems highly unlikely, but also highly laudable. It's in everyone's' interest to improve and maintain the highest creative standards and to deliver effective content which attracts the public's attention and produces results for the advertisers.
*Eurostar & Thalys were all over an hour late – thieves had stolen copper signalling cable just outside of Paris. There was also a strike by ground staff at CDG airport which caused Lufthansa to cancel some flights.
†An unconference is a facilitated, participant-driven conference centered around a theme or purpose. The term "unconference" has been applied, or self-applied, to a wide range of gatherings that try to avoid one or more aspects of a conventional conference, such as high fees and sponsored presentations