Gail Chiasson, North American Editor
There are an additional 80 new digital advertising faces at the Montréal-Trudeau International Airport.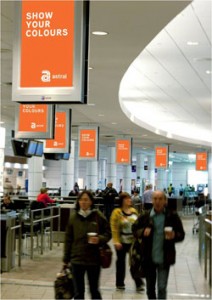 Astral Out-of-Home, one of Canada's leading out-of-home advertising companies and a subsidiary of Astral Media Inc. has expanded its advertising network at the airport with the addition of 80 new AeroVertical digital faces to the hundred digital faces already in place.
"This addition of our new AeroVertical network consolidates our digital advertising offering at Montreal-Trudeau airport," says Luc Quétel, vice-president, real estate services, Astral Out-of-Home. "It provides marketing specialists with a substantial return on innovative and targeted campaigns."
Astral Out-of-Home's AeroVertical network includes a 90-second broadcast loop shared by a maximum of six advertisers with 15-second spots. Its 40'' (102 cm) vertical digital faces are mainly located throughout the airport's domestic terminal. The AeroVertical network can broadcast still or animated content. It is programmed and managed remotely from Astral's state-of-the-art control and broadcast centre located in Montréal.
With over 12 million travelers passing through the Montréal-Trudeau Airport annually, Astral's AeroVertical network offers advertisers flexibility and creativity. The network complements the existing AeroTV flat-screen television network, located in the flight departure area, that features programming focused on entertainment and leisure; and the PasseportMedia screens – located in the flight arrival area – that broadcast rich visual content, supported by text or graphics.