Here we see Mark Pigou (left hand side) and Richard Corbett (right hand side) in front of a Mini Cooper equipped with an iTaxiTop [1]…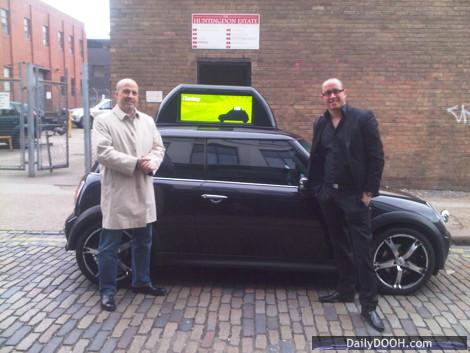 [2]
Some folks have seen them already flying around London. Perhaps this means that we are going to see them at #ScreenMediaExpo in May in London?
Whilst this is cool the guys and gals at Eyetease Media [3] have a real job on their hands in selling this concept. Loads and loads of people have tried similar things with vinyl stickers and wraps. The problem is that the main metropolis' are already pretty well served by black cab advertising opportunities and advertiser demand is naturally more limited in suburban areas.
The other issue is that agencies won't have much 'quality control' unless Eyetease Media were ONLY to deal with large cab operators such as Addison Lee.
Our guess is that they (Eyetease Media) will be able to generate some local advertiser demand but it's going to be a tough proposition for national sales.