Gail Chiasson, North American Editor
This month, in the CEO Spotlight, we welcome Mike Brown, CEO, Panel Media Group, New York City.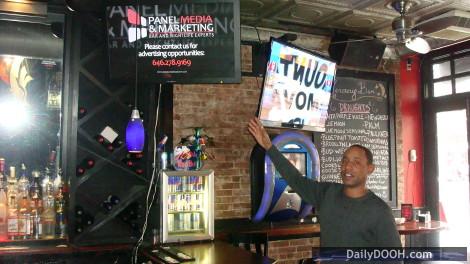 Give us a little on the history of Panel Media Group, including who founded it and when, how it evolved from its initial plan, and who owns it now.

Panel Media was founded in 2005 by a group of entrepreneurs looking to capitalize on the emerging trends in the media and advertising space. The genesis for the business was to offer advertisers a better way to reach the desirable 21-35 year old demographic in the out-of=home arena.

Being one of the first companies to embrace digital out-of-home, we have had the benefit of being around while the industry was just getting started so we've learned quite a bit over the years.

The company is majority owned by Crown Media, LLC, a media holding company with investments in outdoor advertising, digital out of home and mobile advertising.

Digital screens targeting the young and affluent nightlife crowd in bars and restaurants are only part of your product line. You also have many other below-the-line offerings and guerilla marketing. What percentage of your business involves digital screens, what sizes are they and where are they located?

Our primary goal is to deliver maximum results to our clients. We listen to their needs and react quickly by providing them with a media campaign that meets their criteria. Having developed good relationships with our network of locations, we are able to execute all sorts of campaigns including Backlit Billboards, Restroom ads, Street Teams and Mobile Proximity Marketing. About 80% of our offerings are digital, using 42" screens. The backbone of our network is in New York, Los Angeles, Chicago, Miami and Boston – and we're continuing to grow.

Since your founding, have you been involved in any acquisitions? Are you interested in making acquisitions or developing partnerships in the U.S. or internationally? Or, of course, being acquired?

We are always looking for opportunities to add value to our business and have been approached by many companies in our space regarding potential partnership or acquisition opportunities. In fact, we are working on a very large partnership that I can't speak about right now. Our owners are happy with the way our business is developing so I don't see us selling. We've looked at acquisitions but they haven't made a whole lot of sense for us at this time.

What are your priorities in 2011?

Innovation, growth and delivering for our clients.

What made you decide to target the young and affluent market? Does this limit your possibilities for growth? Is the restaurant/bar market becoming saturated with a lot of competition?

Our network targets young adults 21-35 because they are trendsetters living in dynamic urban markets such as New York City and they are receptive to our products and our clients' messages. This does not limit us at all as not surprisingly most advertisers seek this demographic. As far as competition is concerned, we are confident that we offer advertisers the best locations in each of the markets that we serve. We want to be in the best locations that are high traffic and well- known venues. We believe strongly in focusing on and growing our own business.

What are your plans for expansion? Are you interested in growth in certain cities? International growth? Or into new venues and target markets?

We are focused for now on the bar and nightlife venues—we still see massive opportunities for growth in that market and we feel it's among the best locations for advertisers to consider in the out of home space. We have an expertise in this market that has taken time to develop.

In terms of international growth, we're always open to the possibility but we'll take it one step at a time.

Do you have clients that only use your digital screens or do most of your clients use a mix of your services? Please elaborate a bit.

While the majority of our campaigns have digital, we also offer a compelling list of additional services to our clients and are even willing to take-on something special or unique should they want it. A great example of this occurred recently when a major wireless company that has been a consistent client of ours on the digital network engaged us for a cling campaign outside of the bar and nightlife network as well. Other examples include a major beer company that recently bought our digital network along with Mobile Proximity, and a popular online dating site engaged us for digital and guerilla marketing services.

Who is your oldest client, since when, and how does it use the Panel Media Group's offerings?

Universal Music is our oldest client. They run a lot of their new release artists through us. They show a 30-second clip of the music video stating that the release is now available. I actually have a funny story about this advertiser. One of their artists, Ryan Leslie was eating at Dallas BBQ in Times Square and saw his ad running during his meal! He was very happy!

Do you use a partner for software or have you developed your own proprietary offering? Why, in either case?

We use a partner for software. I can't reveal the name at this time. We aren't a technology company. We're a media and marketing company. We have to focus on our strengths.

What do you see as the most important current influence or technical development affecting the DOOH world? Is it affecting your company at this point in time, and, if so, how?

As with any business that incorporates technology, there are always new offerings that can change the landscape. One of the most recent technological developments for us has been the introduction of 3D screens into our network. We believe that new technologies such as the 3D screens will only serve to bring more advertisers to the DOOH world as they see it not only offers clients a more targeted campaign but also better consumer interaction.

I believe you offer creative services through an agency called Gotham Network. Is this a company owned in part or in whole by Panel Media? Does it work only for your clients?

We do offer creative services. (We dropped the Gotham name a few years ago).

Are there any new offerings you'd like to add to your digital platform in the next two years? What is your strategy for growth going forward?

As I mentioned earlier, we are currently the first digital advertising company to release 3D ads on our network. We've licensed a proprietary technology that allows 3D without glasses! The reaction so far has been tremendously positive. We are running a test campaign for a major brand in NYC with plans to roll this offering out nationally this year. Very exciting stuff!!!