Gail Chiasson, North American Editor
Interactive screens located in the storefronts of a Vancouver and a Toronto Starbucks are allowing passers-by to guide a creature of their choosing – a hummingbird, dragonfly or butterfly – on an adventure to find all the ingredients unique to each of the three Tazo teas being currently promoted by Starbucks.
The Media Merchants, Vancouver, worked with Starbucks to produce the project. The interactive screens are running for four weeks, to Feb. 26.
Jordie Morrow, national account executive at The Media Merchants, who headed up this project, says, "Once the concept was developed at Starbucks internally, it was up to The Media Merchants to manage and execute the innovative initiative in order to follow a specific campaign strategy."
The Media Merchants managed all facets of the campaign.
"It was a matter of balancing the overall scope from Media Com's concept, Blast Radius's creative brilliance, and ensuring we developed the interactive portion perfectly," says Morrow.
"This installation is different from other interactive storefronts we've worked on as we typically utilize empty retail locations. A vacant venue allows us to build a massive projection screen, as large as the window will allow, while taking advantage of significant foot traffic. Starbucks on the other hand wanted to make the most out of its key locations in Vancouver and Toronto and these two interactive storefronts are uniquely positioned on two of Starbucks' busiest locations.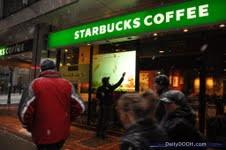 "It has been a great project, as thousands pass and enter each cornerstone location on a daily basis. In addition, a wide demographic is drawn to the interactive storefronts because of the brightness and quality of the screens. It is very difficult to pass by a screen and not notice the Tazo campaign."
The campaign can be seen at 2510 Granville Street in Vancouver, and 4 King West in Toronto.