Sreekanth Kumar, who usually goes by the single name of Kumar, is a customer support engineer at Haivision Network Video [1], Montreal, where he is responsible for installations at customer locations, troubleshooting of customer issues and assisting in gathering customer requirements for future releases.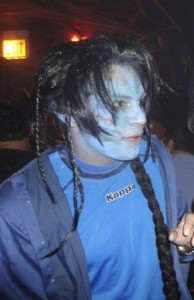 [2]
Describe your personal work space.

Walk into the Customer Engineering Center at Haivision and you will feel the buzz of a dynamic, tech-savvy and fun-filled work environment. At my desk you can find anything from a video camera to an iPad, LED/LCD displays, routers, servers and lots of coffee mugs!!!

We have a very open work environment and you would usually find yourself interacting and working with people from various parts of the company ranging from development and QA to Sales and Product management.

How do you get to work?

I usually take the public transit to work. The bus and metro give me time to catch up with the events happening around the world and also help me in getting a head start on my work so that by the time I'm in the office, I can jump right to business.

What is an average day like?

The average work day at Haivision is very unpredictable and can be pretty crazy!!! By the time I reach office, I would probably have around four or five customers from different parts of the world requesting assistance, with tasks ranging from helping to ensure that a surgical procedure was recorded correctly at a hospital to engineers at a sports center needing assistance in ensuring that the press conference after an NFL game is all set to be telecast correctly.

Also, being part of this amazing city called Montreal, many of us do hang out after work and religiously watch ice hockey!!! I also know of many musicians in the company and there are plans of putting together a Haivision rock band.

What is essential to you being able to work happily?

Lots of coffee!!! We have a very dynamic and fast-paced work culture and people are very passionate about what they do, which is one of the main driving factors for me – and for most people – at Haivision.

Also, Haivision places a lot of emphasis on taking good care of its employees. For instance, we are all going on a five-day, all-expense paid trip to Cancun in Feburary!!!

How flexible are your working conditions?

We are on call between 9 a.m. and 6 p.m. but we have the flexibility to come in a little late and we are always willing to help out in case a co-worker needs to come in late. Also, we are free to work from home if the need arises.

What do you think your employer looks for in its staff?

Haivision looks for people who can work as part of a dynamic team and learn new technologies quickly, and also think out-of-the-box so as to help create innovations that help us define the next generation of IPTV solutions. I have worked in a couple of firms before Haivision and I think that we have a very talented, energetic and dynamic workforce.

What suggestions do you have for your company?

It would be nice to have a beer dispenser at work!!!

I believe that we have some of the best talent in the world and as we keep expanding, we need to continue to keep innovating so as to stay ahead of our competitors and continue to exceed our customer expectations.

Do you have any frustrations you would like to share with us?

We work on very challenging and high pressure projects and it does take a lot of effort to ensure that the issues are resolved on time and that the ever-increasing needs of our customers are satisfied.

But at the end of the day, nothing is more satisfying than the joy of having been able to provide a simple solution for a customer's complicated problem 🙂

What do you like best about your job?

The most fascinating part of my job is that it gives me the opportunity to learn something new everyday. Every customer scenario that we work on is unique, and the beauty of my job is being able to implement our products as solutions that cater to the needs of customers from various sectors like educational institutions, military installations, hospitals, and clients in the sports and entertainment business.

Also, Haivision places a lot of emphasis on having fun at work and there is always some event or the other happening in the company.

How open is your company to new ideas and suggestions?

Haivision places a lot of emphasis on employees bringing new ideas to the table. We have a product management team that does an incredible job of going through every idea/suggestion coming in from every employee and customer, and trying to get the most critical ones implemented as part of our future releases.

Also, most of our stalls at exhibitions have an aquarium with sharks in them representing the products that we sell – which are all named after sharks!!!

How much responsibility have you been given?

As a customer support engineer at Haivision, you have to wear many hats. At one time you are a consultant trying to understand a customer's use-case and implement a solution to help solve their problem, and at another time you are an engineer troubleshooting issues with the IPTV implementation. Many of my co-workers also work in automating existing processes to help improve our efficiency.

How green are you and your company?

Haivision has always been about going green. We try not to send customers documents, but rather have all the documentation online so as to save paper and trees. We also have separate garbage bins for recyclable material to promote recycling and re-use.

Most employees use public transportation and try to play their little role in making the world a better place to live in!!!