Gail Chiasson, North American Editor
Turnkey solutions provider E Display, Calgary, is using Navori's software to drive sales and improve messaging on menu screens in the fast-growing OPA! Souvlaki chain.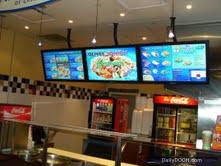 E Display is using Navori's digital signage software suite to roll out what has quickly become one of Canada's largest QSR digital menu-board deployments. Almost 200 screens in the Greek-flavored OPA! Souvlaki fast food chain are now using a digitally-driven menu-board platform to lift sales of promoted items and to cycle through the QSR's menu features and promotions with minimal cost or effort.
The digital menu-boards – usually three per site – are part of the standard set-up for the new stores that are being added each month. E Display handles deployment and does all the content management for OPA!
The company started working with the chain in Sept./09, and after tests and trials with several Tier 1 software platforms, E Display settled on Navori for the full deployment.
"When we started our search for digital signage software, we ran into products that were not mature enough," says Imran Khan, E Display president. "If they offered most of the features we needed, they ended up being too expensive. The main selling point of Navori was how it offered a comprehensive product at a reasonable cost. We also liked how the Navori team was open to suggestions on enhancements and new features. Instead of resistance, we got enthusiasm."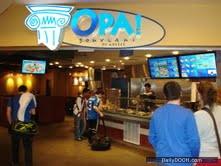 Promotions driven on screens have reportedly seen significant sales lifts. But the menu boards are also used to drive efficiency and lower costs. OPA! changes its promotions as often as three times per month, and converting to digital from analog sign systems has removed all the time, labor and costs of manual changes.
"Now we update OPA! boards across Canada just using Navori Manager," says Khan.
"E Display is an important client and partner for Navori because it is demonstrating success in a very hot sector for digital signage – QSRs," says Jerome Moeri, chairman, Navori International SA. "This is an area that will see explosive growth in the next two years, and E Display has done an excellent job of demonstrating the power, simplicity and value that Navori presents."
Operating since 1998, Lausanne-based Navori has clients in 90 countries and more than 75,000 active players in the field. Its premise-based software is available in seven languages.
The North American launch of Navori's new QL platform – short form for Quantum Leap – is set for Feb. 22-25 at Digital Signage Expo in Las Vegas, Booth 2028.