I'm very pleased to announce that Streamit was selected as one of the winners of The Pick of ISE2011 for the Streamit AVplatform. The editorial team behind the ISE Daily & IE have chosen the Streamit AVplatform as one of the very best new product innovations presented at ISE 2011. As leader on Church Radio Services in Europe with thousands of installation also on Instore Radio solutions they enter now in a new era. The Streamit AVplatform takes care of the (live) streaming, distribution and recording of (HD) video and audio streams. It can be used to broadcast live events such as sporting events, concerts, webcasts, news and educational events. Using internet as the distribution network, Streamit offers a complete solution that is easy, fast to setup and cost-effective.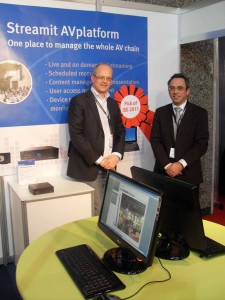 When I interviewed my friend Johan van der Stoel, owner and CTO of Streamit his happiness is completely visible about the new goal reached, also Win van Djik Sales manager thinks that the new offer could complete the lineup with the video management increasing market a lot.
Streamit is a Dutch company, specialized in the development and marketing of transmitter and receiver equipment for video and audio streaming over the internet. Streamit is known for their innovative in-store audio and STL solutions for music providers, retail chains, churches and broadcasters worldwide. The AVplatform and the Maven are typical examples of the attention Streamit pays to quality and reliability of their products at the same time driving user friendliness.