Gail Chiasson, North American Editor
iSIGN Media Solutions Inc., Toronto, has entered into a non-equity, non-exclusive partnership with BroadSign International Inc., Montreal, whereby the two companies will mutually promote, support and sell each other's solutions.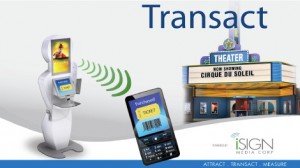 iSIGN's technology communicates with consumers, while they are in the vicinity of digital signs, via personal mobile devices on an opt-in basis. iSIGN enables shoppers to instantly receive and redeem coupons and other promotional offers at the point of purchase or nearby businesses.
The integration allows iSIGN to supply its devices to several hundred digital signage networks running on BroadSign platform.
"iSIGN's Interactive Marketing Solution and Business Intelligence software offers a innovative and powerful way for digital signage networks to communicate with consumers on-the-go and, at the same time, build measurable loyalty programs," says Brian Dusho, CEO of BroadSign International, "What attracted us in iSIGN is the fact that in addition to satisfying the need for locally targeted mobile marketing, it provides a straightforward method of tracking the efficiency of each digital signage campaign and enables a cost-per-result pricing."
"The two companies offer a parallel value proposition," says Daniel Parisien, vice-president product and strategic planning, BroadSign. "We'll be selling to both companies' customers. iSign will benefit from our campaign planning system and our analytics, while Broadsign will benefit from iSign's mobile offering."
"We've wanted to work with BroadSign for two years," says Alex Romanov, iSIGN's CEO. "BroadSign's advanced campaign planning, execution and reporting platform will help retailers using iSIGN's software solutions to significantly increase the reach of mobile campaigns, as digital signs will drive consumers to interact with their mobile devices. As we integrate our products further, we will be able to benefit from richer targeting and reporting tools for combined digital signage and mobile campaigns."
iSIGN's other business partners include AOpen America Inc., having an OEM agreement for the embedding of its IMS software in AOpen's digital media players, and IBM, as its Solution Provider, POS All Models. iSIGN's software solutions are also distributed by BlueStar Inc. to its network of Value Added Resellers. iSIGN is based in Richmond Hill, Ontario with R&D and customer support operations in Vancouver, BC. iSIGN is a publicly traded company on the Toronto Stock Exchange.