Gail Chiasson, North American Editor
Le Moyne College in Syracuse, N.Y., is now using two solutions from X2O Media, Montreal-based full-service provider of software, network management, and content services for professional digital signage applications. With more to come.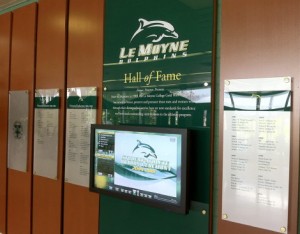 Installed by VIZIONefx, a digital communications integrator based in Baldwinsville, N.Y. X2O's vClips interactive HD video kiosk is featured in the college's Athletics Hall of Fame to engage visitors and showcase program accomplishments, while four digital menu boards are being powered by Xpresenter Xe in the Dolphin Den on-campus café.
Le Moyne College is an independent, nationally acclaimed college of liberal arts and sciences that draws students from across the U.S. and abroad. In Aug. 2010, the college began a modernization of its Athletics Hall of Fame, a project that included an interactive display to engage visitors and market Le Moyne and its athletics program in new ways. Powered by X2O Media's vClips interactive video application, the display at the entrance to Le Moyne's Henninger Athletic Center showcases video highlights and recaps of individual program accomplishments. Future content will include video messages from coaches, administrators, and the president of Le Moyne College.
In November, Le Moyne College also began installation of digital menu boards in the Dolphin Den. Using X2O Media's Xpresenter Xe Video Poster, the menu boards eliminate paper menus by displaying current offerings and pricing for the café's four distinct service stations. With X2O's Video Poster, menus can be scheduled in advance and updated as necessary on a moment's notice. In addition, the displays provide a way to keep the Le Moyne College community informed as they dine by displaying current college news and event updates.
"It was imperative to find solutions which provided the flexibility and depth to meet Le Moyne's needs," says Matt Oswalt, president of VIZIONefx. "We've worked on several projects utilizing X2O Media solutions, including higher education, senior living, and healthcare, and knew that the company's vClips and the Xpresenter Xe Video Poster would be ideal for accomplishing them. vClips provides the interactive and expansion capabilities the athletic department requires, while the Video Poster offers simple scheduling of content and smooth graphical transitions for the Dolphin Den. As always, the ease of administration and updating of content are key features of X2O Media solutions. This helps to keep the content fresh and current – important factors of any good digital communication platform."
"Le Moyne is one of the first colleges of its size to incorporate an interactive touch screen as part of its athletics department, and the response has been nothing short of phenomenal," says Shaun Black, acting director of information technology at Le Moyne. "In addition, the entire college has been completely engaged by the menu boards, which have provided tremendous flexibility to our dining services staff. And everyone is excited about our plans for future expansion of the solutions, which will connect with a campus-wide digital channel, CAMPUSefx, via X2O's Xpresenter platform."