Gail Chiasson, North American Editor
Wisconsin Institutes for Discovery, a series of buildings at the University of Wisconsin, wanted something to attract the attention of the public and donors when a new building opened.
The result is on the first floor of the state-of-the-art facilities that brings together scientists and researchers from many disciplines: Two totally different long screens form an interactive zone that attracts both employees of the research centre and the general public.
Float4 Interactive, Montreal, collaborated in a joint effort to push the limits of interactive technology and natural user interfaces. Leveraging on RealMotion's clustering capability, the two large scale interactive walls, using Christie MicroTiles, display multi megapixel resolutions in real-time, making these among the highest resolution interactive surfaces in the world. With content creation and production by Madison, Wisconsin-based ZebraDog Visual Culture, project consulting by Sensory Interactive, Inc. Towson, MD and AV intergration by R2W inc., Las Vegas, the result is an interactive production that attracts both employees and the general public.
The first display, called the Entrance Portal, greets visiotors with a unique visual experience that reacts to multiple interactive zones and creates various degrees of involvement. Measuring 17' long x 2' high (9824 x 866 resolution), it offers multi-zone gesture interaction and has 2 x Real Motion Servers in cluster configuration.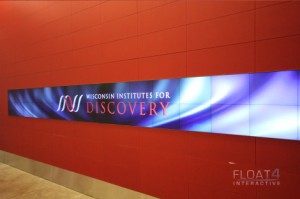 The second installation is the Discovery Wall, combining both gesture and multitouch support to create a rich and engaging educational experience. Made up of 10 x 4 Christie MicroTiles (5496 x 1650 resolution) with gesture and multitouch interaction, it also has has 2 x Real Motion Servers in cluster configuration, audio support and DVI input.
"The entrance display is playful including photos of the eyes of various researchers who work there, creating a relationship with people working in the building," says Alexandre Simionescu, managing partner, Float 4. "And the 10' x 4' wall, which has various information to be called up interactively, also has an area for donors. The same wall allows for plug-in so it can be used for presentations."