Gail Chiasson, North American Editor
We just finished skimming through two new reports released today by Adcentricity – its 2011 Digital Out of Home Media Outlook & Planning Guide and its Q4 2010 Digital Out-of-Home Market Review – and came up with what we'd consider recommended reading for anyone considering entering the DOOH industry, for anyone wanting a general overview of what's happening in their own industry – and for advertisers, media planners and buyers, it's a good compilation of market data, insight and trends best leveraged as a reference guide.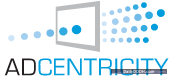 "2011 will bring major industry changes to DOOH; from acquisitions, cross media capabilities and alliances to an increase of major brands utilizing the format," says Jeff Atley, co-founder and CMO of Adcentricity. "The medium is proving successful for marketers. Young companies have been replaced or rolled into larger, more seasoned companies, with major media companies now investing in DOOH. Marketers are increasingly shifting dollars to this new medium because it's addressable, interesting, effective and an efficient, proven tool for targeting active consumers when they are away from the home and moving through their busy days."
According to the reports, Adcentricity now works with 204,000 digital screens across the U.S. and Canada, up 22% year over year, and venues have increased 28% to over 56,000 – and are still growing.
The 2011 Outlook and Planning Guide notes several trends.
The DOOH market spend is expected to eclipse $4.5 billion by the end of 2013, while traditional OOH is expected to be about $5.75 billion at the same time frame. (Source: VSS Communications Industry Forecast 2009-2013, and published by PQ Media.)
With such growth, 2011 is forecast as the year DOOH will stand alone. Much of the media attention, measurement, revenue reporting and creative focus lumps DOOH into a broad category with the likes of cinema advertising and the big LED boards that line major city squares and major roadways. DOOH will emerge on its own this year says the report.
Adcentricity's crystal ball says that 2011 is the year the technology powering DOOH has hit a pervasive level of sophistication. (We noticed that the reports make little or no specific mention of interactivity, gesture-base, 3D or QR codes.)

"I don't foresee so much new technology coming this year," says Rob Gorrie, CEO, Adcentricity. "What I do see is DOOH, social media, mobile and location-based media barreling towards each other. They're all going to have to learn to work together, and do it quickly."

"And agencies are really beginning to 'get it' in terms of understanding the DOOH products, but it's not just a question of buying," says Gorrie. "They also have to learn – quickly – how it fits into an overall plan."

Gorrie says that he's seeing new faces among agencies getting into including DOOH as part of their plans for clients, among them Cossette, Dentsu and M2.

Retail is expected to be hot in 2011. Consumer packaged goods giants are shifting major percentages of their marketing budgets to shopper marketing strategies. That shift in mandate is owed to changing consumer behaviors and media consumption patterns that once again reinforce how important it is to get messages in front of shoppers when they are making buying decisions, not when they're at home on the couch.
DOOH as a medium reaches 67% of the 18+ age group across all venues, but the Q4 2010 Report showed some variation on what people are seeing and where they are seeing it.
"Some industries get fatigued or their strategies didn't fit certain categories in 2010 Q4," says Gorrie in noting that convenience stores were not in the top five in the venue category as they usually are. Big players were retail, pharmacies, doctors' offices and, for the first time, entertainment – sporting and event centres.
Much of the Q4 data comes from Adcentricity's own business. The company registered an almost 100% increase in annual spending over 2009, with 2011 forecast to grow another 100%. Its bookings were up 380% in Q4 over Q3 and 32% higher than the same period on 2009. And its revenue was up 37% over Q3.
The company noted that certain categories such as telecommunications, consumer packaged goods and, especially, the afore-mentioned confectionary, were down in Q4, largely due to last minute budget cuts and corporate agreement obligations to TV.
Big new spending came from healthcare, personal care, medecines and remedies, and pet care. Top categories were: financial services; automotive; government programs; consumer packaged goods; and health care. Health care and pharmaceuticals are categories to watch in 2011, says Adcentricity. And in retail, quick service restaurants and hospitality are trending towards more visibility.
In terms of Q4 geographic demand, the top five cities were: New York, Los Angeles, Chicago, Philadelphia and Washington D.C.
"The massive shift of brand dollars into shopper marketing demonstrates the importance 'physical' locations and active consumer environments hold in marketing initiatives," says Atley. "DOOH is at the heart of this new approach, and can play a vital role."
For the complete 2011 and Q4 reports see: www.adcentricity.com/resources