Gail Chiasson, North American Editor
Mississauga-based TTUFF Technologies and NEC Displays is introducing the new TTUFF BLADE drive system for digital signage
The companies says that digital signage network operators can dramatically trim media playback hardware budgets, without compromising performance or reliability, using the new drive system developed by TTUFF and NEC.
The new XPE-20HD-NEC BLADE drive system is a custom-engineered media playback device that fits directly into a slot built into the rear housings of three different lines of NEC commercial flat panel displays. The companies claim that, using cost-efficient AMD processors, TTUFF's newest drive systems shave an estimated 20% off the capital costs of competing drive systems.
TTUFF's BLADE drive systems are also said to reduce installation and ongoing operating costs through a unified, easy-install system, and a rugged computing component that's easily shipped and hot-swapped on site.
"There was a very clear demand in the digital signage market for a media playback engine that bridged the need for performance and reliability with the realities of tight capital budgets," says Doug Wismer, vice-president sales and marketing, TTUFF Technologies. "This AMD-based system has the computing and graphics processing power needed to meet the most demanding requirements of digital signage networks."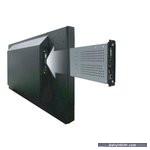 The new XPE-20HD-NEC has an AMD Athlon X2 dual core 2.0 Ghz CPU and integrated ATI graphics. Running Window 7 Ultimate as the standard OS (others are optional), the standard unit ships with 2GB RAM and either a 160GB hard drive or 32GB solid state drive. Wi-Fi, video capture and 3G wireless capabilities are upgradable options. The TTUFF BLADE series fits with NEC's P, S and X series of LCD display panels.
The TTUFF brand reflects the company's long-running focus on developing products tuned to the real world demands of digital signage networks. Built to run uninterrupted for years in demanding environments, thousands of TTUFF drive systems are being used in airports, universities, amusement parks, arenas, restaurants and mass merchandise retail stores around the world.
"You can put consumer-grade PCs into these kinds of environments and they'll do the job, for a month or two," says Wismer. "But an off-the-shelf PC will not survive, running unattended, 24/7. The XPE is engineered specifically for that task."
TTUFF will be demonstrating the new XPE Blades at next week's Digital Signage Expo trade show and conference in Las Vegas, Feb. 23-24, at Booth 1026.