Gail Chiasson, North American Editor
Hercules Networks has placed its goCharge cell phone free charging kiosks in 50 bars in New York City, all totally wrapped and sponsored by Bacardi international rum brand.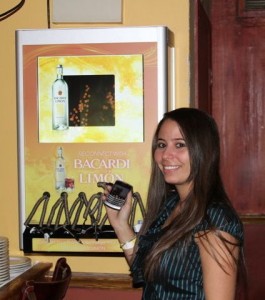 The LCD screens display rolling advertisements picked by the brand. Because users wait while their phones charge, these advertising placements are valuable opportunities.
As New York City bars' target demographic is men and women in their mid-to-late twenties. goCharge's kiosks add to the bar's attraction, allowing people to sit, socialize, drink and charge at the same time. Bars are a common place for cell phones to be depleted of sufficient battery because many are texting and calling others to organize a gathering. goCharge resolves this issue by providing speedy, convenient charging on-the-go as well as influencing users to purchase the sponsor's brand when ordering a beverage.
Whether someone is on his way to another destination, stopping by a bar, or spending a large span of hours at a bar, goCharge's charging kiosks serve multi-purposes for those on-the-go or those who have time to spare. In addition to advertising, content on the LCD screen entertains users with games such as trivia and Mad Libs, allowing them to have fun and socialize while charging. These engagements also encourage increased visibility as users turn to others to join them in games.
We had written about Hercules and its recharging machines back in June/09 but hadn't heard anything since.
"Our earlier technology was from China, and we weren't totally satisfied," says Paul King, president, Hercules networks. ""We spent a lot of tie and money since on R&D, and designed a new charging technology with ETP Design, West Palm Beach, Florida.
"We've replaced our previous technology with this new technology and now want to roll this out with the right brands to bars and other locations to cities everywhere, as we've done with Bacardi, as well as to events and conferences."
When placed in bars, the units – which recharge all brands of cell phones – are permanent, but for conferences and events, such as for one for Verizon recently, they can be temporary.(The units weigh about 40 lb.
So far, in addition to N.Y., goCharge units are in 50 bars in Chicago and 15 in Toronto. When sponsored as with Bacardi, the charges are free. Otherwise, they charge $5.