Israeli company DGScreen, a new provider of web-based, digital signage advertising systems, will launch its DGScreen SaaS (Software as a Service)  digital signage solution at #dse2011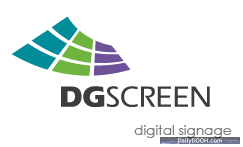 [1]DGScreen comprises the patented AdBox, a robust, compact media player which is simple to connect and easy to use.  Because it is a dedicated appliance, the AdBox doesn't require connection to a computer thereby eliminating the need for IT assistance as well as the additional software and license fees associated with such.  The AdBox is designed for customization to support interactive functionality as well as a variety of media.
Eyal Rom, DGScreen EVP Sales & Marketing explained, "Because DGScreen is offered as a combined hardware/software solution and available on a SaaS model, we're able to offer it at an unprecedented price.  Now any business, large or small, can take advantage of digital signage technology to improve communications within their organization as well as deliver targeted advertising and messaging to their customers that enhance point of purchase marketing and improve bottom line results. "
DGScreen also includes the web-based DGDesigner and DGManager for content composition, playback, management, scheduling, distribution, real-time monitoring and reporting.  Because this is a web-based solution, users can create campaigns and manage content across their digital signage networks from any internet-connected device.
The DGScreen features hundreds of video templates, ad insertion synchronized with TV broadcast scene changes, self-created banners, RSS feeds and more.