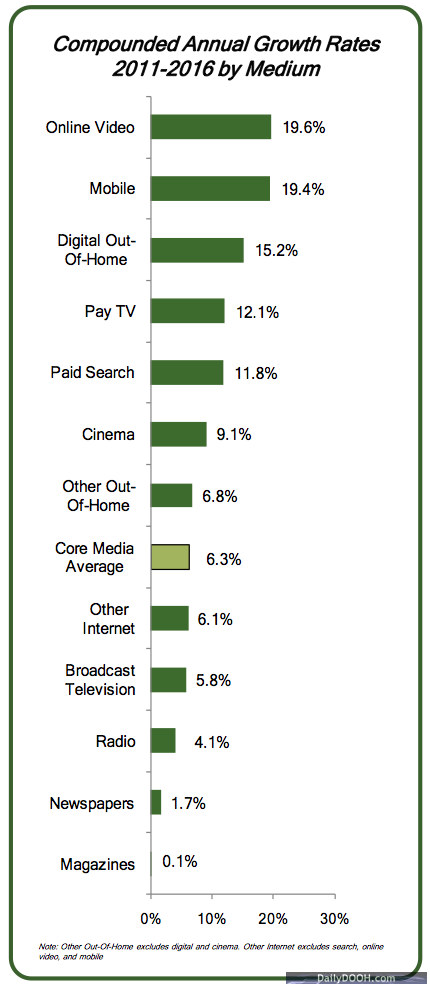 DOOH spending is predicted to double by the year 2016. MagnaGlobal Advertising's 2011 Forecast suggests that spending in digital out of home will grow from $2.6 billion in 2011 to $5.2 billion in 2016.
This represents an average growth rate of 15.2% over the next five years. Annual growth rates for DOOH came in third behind, front runners Online Video at 19.6% & Mobile Advertising at 19.4%.
MagnaGlobal states obvious reasons like the increase of inexpensive digital screens & lower costs to connect to the internet as contributions as to why digital outdoor advertising is growing so rapidly. This has led to a more competitive environment that allows DOOH suppliers to provide more content, in more places. As new developments in technology are introduced that allow for more efficient processes, the cost of delivering dynamic digital content will be reduced for suppliers.
A note of interest, is that the forecast points to the fact that "Interaction with mobile devices, especially with short code messages, has made the medium more engaging for consumers as well." This means that advertisers can maximize the performance of their ad campaigns if they are able to harness the power of digital out of home and mobile in a innovative campaign that grabs consumers attention.
Another interesting point is that MagnaGlobal suggests that the sector's growth is partially constrained because of localization, however when marketers integrate mobile devices they are able to make advertisements more relevant to consumers. This type of experiential advertising tactic that adds mobile into the activation allows companies to connect with consumers in real life enriches the brand experience and multiplies social media currency.
Also cited as a factor in the constraint of growth in the DOOH sector, is the lack of the medium's ability to bring more advertisers to the table that value measurement as a key facet in assessing an ad campaign's performance.
However, as evidenced by award winning mobile campaigns,
when marketers combine mobile apps, smart phone devices, or online gaming with a much larger OOH campaign, the Mobile DOOH medium becomes a measurable, real time metric that can deliver relevant dynamic content to consumers based on their geographical location.