Gail Chiasson, North American Editor
It's not often that you'll see a management team really follow through on what it says it will do, so when we took a look at ConnectiVISION compared to last July and what its new management team has done to fuel the company's growth, we were pleasantly surprised.
Our interest was spurred by the company's press release that ConnectiVISION would be showing off its 'away-from-home TV network in the health care arena' at DSE, so we took time to chat at length with Alan Klein, COO, and David Tétreault, chief marketing officer, a team that seem remarkably in-sync with each other as to what they've done and what they hope to do.
And, sure, there are a few changes with their original plans, the first of which is ConnectiVISION's phasing out not only its kiosks in airports, as planned, but also its phasing out of similar kiosks in the hospital setting. Those kiosks allow visitors and patients to recharge portable devices, connect to the Internet and even rent a laptop.
"When these were first launched there was greater demand for these services, but today, with so many people having iPods, iPads and the like, there's less demand so we are slowly discontinuing that side of the business," says Klein.
Today, the key item in the business plan is the away-from-home TV network combining information, education and entertainment, all creatively adapted to change the viewer experience in traditionally stale health care waiting rooms of hospitals, clinics and doctors' offices. It usually has approximately 20 screens in hospitals, as many as 12 in health clinics and usually two in doctor's offices.
People in these settings are usually nervous, worried or bored and have limited attention spans, so patients are not drawn to non-stop news programming, nor to an endless streaming of pre-recorded videos sprinkled with ads, according to the company's management. ConnectiVISION's programming comes in the form of easily-digestible content, such as entertainment 'minisodes', to maximize the limited attention span of viewers in such settings.
Powered by EnQii technology, "ConnectiVISION's dedication to a state-of-the-art, integrated television programming strategy is the power behind its appeal to advertisers, brands and health care facilities," says Tetreault.
To develop what ConnectiVISION calls its away-from-home TV network, it has made programming partnerships with NBC, CBS, FOX, CNBC, BBC America, WE, Tennis Channel, PBS, VH1, E-Entertainment, MGM and Smithsonian Channel. Added to programming from these sources are health-centric public service announcements and original small programming moments on such topics as health tips.
Production of the programming from the various partners is by DG Entertainment, Los Angeles, a company used by Hollywood studios because of its broadcast-quality productions. And the organization of the programming, editing and scheduling is by Shannon Cardenaz, ConnectiVISION's director of programming and production.
The cutting-edge IPTV programming delivery system, powered by Enqii, provides comprehensive media scheduling and generates real-time proof-of-performance.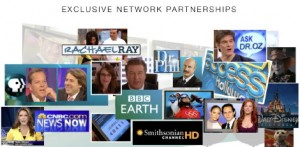 The program pieces are scheduled with a mix of different length minisodes of approximately three-to-five minutes, full screen, although every 15 minutes, a split screen comes along with CNBC news. ("The split screen is currently being rethought and may change a bit," says Klein.) Programs may be, eg., sports from NBC, syndicated programming such as Rachael Ray from CBS, comedy from Fox, reality, talk or drama from BBC America and other variations from all the broadcasters.
The programming follows the television model of seven minutes advertising per half hour. (In addition, companies can sponsor certain four-to-six minutes 'promercials'. 1:30 is also given to the affiliates each half-hour, so three minutes per hour is available to brand hospital services and other information. ConnectiVISION-produced health shows include Health Notes (tips) and Doc Talk (health information via quizzes).
"We took a lot of time studying the mindset of the audience," says Klein. "People appreciate health tips, but don't want to see stethoscopes, for example."

ConnectiVISION did a road show, meeting with agencies in January, which showed that the programming and product offering were spot-on and viable. It has now scheduled a study by Arbitron for April, 2011.
"We wanted to be sure everything was working as it should before commissioning a study," says Tetreault.
It is now also evaluating agregators to help with advertising sales, under Tim Kennedy, director of advertising sales.
And we learned that the company, owned by private equity and management, is now in the process of going after venture capital to help fund its expansion across the U.S. where it currently has about 100 sites.
"We've had a lot of interest from Canada, Europe, Asia and Latin America, but right now our focus is the U.S., and we don't expect to look to international expansion until at least 2012," says Klein.
A turnkey operation, all the hospital, for example, needs to supply is the electricity and Internet connection. ConnectiVISION installs its units for free and, while its primary focus at this time is health care, it has already drawn the attention of the pharmaceutical sector.
"We'll eventually explore others looking for a complete turnkey solution," says Tetreault. "We may want to look at airports that we know from the kiosks."
"We've been going through a period of learning, of readjustment and discovery," says Klein. "We're now in the growth phase."
At DSE, ConnectiVISION partnered with ViewSonic, a global provider of computing, consumer electronics and communications solutions, to exhibit its complementary digital signage display solutions.