One of the best attended conference sessions on the day before the DSE show proper was the Digital Signage Certified Expert Program (DSCE), part of the Digital Signage Experts Group program, which was run by Alan Brawn of Brawn Consulting.
The DSCE program has had about 3,000 people through its certification so far, and although independent of any corporate sponsorship, it offers support for life after the course.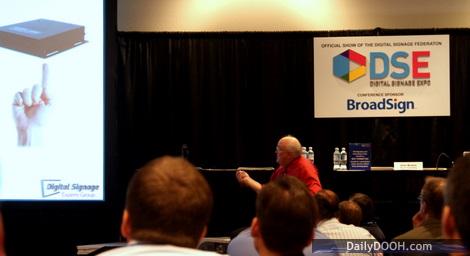 Alan Brawn, a technologist at heart, has been an AV industry veteran for many years, and it became clear that he has a great passion for using his experience in education, with various posts on training and industry groups for InfoComm, NSCA and SID.
Although this program stretched over the whole day, with a break for lunch and a couple of short breaks mid-session, it didn't seem to drag at all, as there was a lot of meaty substance contained in it. It was a very comprehensive overview covering many aspects of the digital signage industry, from design and planning to content and technical, with a load of business sense thrown in throughout. As well as absorbing the stream of knowledge from Alan, he also answered questions and points from the audience throughout the session. If you come from outside the industry, or already have skills in some of these spheres, and want to make sure you can compete properly in the marketplace, this is the course for you.
He set the scene early on with a history of signage and early advertising throughout the ages. What was his earliest outdoor sign? It's the Egyptian obelisk with hieroglyphic writing standing in Paris! (Although arguably the Romans nicked a lot of them much earlier, and Rome now has more obelisks than anywhere else.)
Before covering technical aspects such as display technology, software and hardware, he started off with the fundamentals of designing and scoping a project, focusing on the Digital Signage Experts Group (DSEG) thirteen questions to ask for a Needs Analysis. These were simple enough that a good salesman can use before a more technical look would be needed. After all, as bitter experience shows, if you don't get the objectives right in the first place, the project is likely not to succeed, no matter how good the technical implementation and operation. Yes, it can be a tricky multi-aspect business to be in.
Of the other business nuggets included was that scalability of large projects at the moment is not as efficient as has been predicted, with costs per site not yet falling as much as expected. His advice – if you're not a big company, don't go for big projects outside your experience, instead focus on building your niche markets, and don't try to cover as many verticals as you can.
He took a look at all the display technologies in use, and had some useful guides drawn from experience. LCD panels are the most common displays now in use, with Plasma and projection a much smaller percentage. In particular he pointed out that only LCD glass from Sharp and Samsung (and therefore NEC which uses Samsung glass) is produced to dissipate heat to prevent image retention, and allows good 24/7 running (and if you're thinking of using consumer displays instead of commercial, think again).
The HDMI connector, while mainly a consumer standard, is pretty common and unfortunately flawed by not having a latching mechanism to prevent it coming loose (I can remember having to drive several hundred miles years ago just to re-plug a SCART cable, the ghastly European older equivalent).
Nearing the end of the session, content and its creation was covered, with the options of simpler templates and feeds to full integrated graphic design services. The most important point made was that content on screens is not neutral – bad content can devalue a brand and produce a negative influence in the viewer, it must be good to earn viewer acceptance.
I rather think the 80+ other attendees also learnt something useful during the day.