Adrian J Cotterill, Editor-in-Chief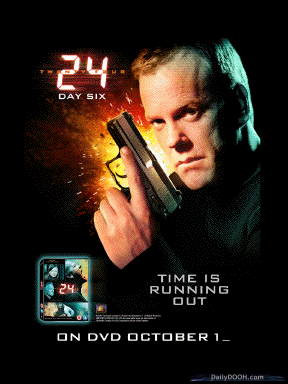 Grand Visual created this unique multi panel, time sensitive concept for CBS Outdoor's Digital Escalator Panels (DEPs) in London.
I like the campaign copy which changes every hour, on the hour obviously mimicking the real time format of the programme – real time changes has not been done before on the DEPs.
Claire Mallender, Brand Manager – TV at Twentieth Century Fox Home Entertainment said "We are extremely pleased with the creative that Tea and Grand Visual have created for our 24 Season 6 campaign; we wanted to target commuters with a creative that had high impact and that was cutting edge to appeal to our target audience. The escalator panels lent themselves perfectly to convey the energy and fast paced action of 24."
The media was booked by Gen OMI and planned by Vizeum.