Manolo Almagro, Q Division Managing Partner
'Internet Privacy Concerns Prompt Advertisers to Increase DOOH Ad Spend' wrote Jason M. Kates over on the usually quite good Digital Signage Expo site a week or so ago.
This post should raise a few eyebrows. The Chairman, CEO and founder of rVue reports a surprising trend; it seems (he writes) that advertisers are turning to DOOH as an 'alternative' to online + social media.
Why the shift?  He explains that it's due to rising consumer concerns for the 'privacy issues' inherent in on-line and social media. Ummm.
Perhaps this is another sign of the coming apocalypse foretold for 2012, or could this be the disruptive epiphany that our industry had hoped brands would inevitably experience?
Are there really agencies and brands making strategic decisions that migrate digital campaigns away from online heavy weights such as Facebook, Foursquare and Google AND reassign them to go for the "safer, less controversial" channels of DOOH?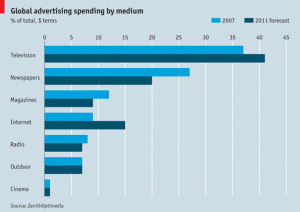 Well the short answer is Nope … nada, no way. In fact despite ALL the privacy concerns, online ad budgets grew a significant amount in 2010.
At the end of last year, digital ad spend increased 13.9% (USD 25.8 Billion) surpassing Newspaper print ads (USD 22.8 Billion)
For 2011, credible media agencies like ZenithOptimedia predict continued growth in global digital (online and social) advertising spend – please note that there are definitely no trend shifts that indicate DOOH cannibalizing social or online budgets, Ed
The big issue that continues to be near and dear to my heart is when will people in our industry 'see the forest for the trees?'
I've said it before, There's not a snowflakes chance in hell that DOOH will ever be an alternative to on-line, mobile or social media – remember, it's not about either/or but rather that DOOH should be part of a fully integrated campaign.
Sadly, The rVue article highlights all the reasons digital OOH continues to struggle in the overall media ecosystem. Now is not the time to think of digital out of home in a silo, it needs to work as a part of the entire customer experience.
Please don't try to "force fit" DOOH as an "alternative" to social and online for the sake of self-promoting a media planning tool. In fact, a true media planning tool should include all customer touch points, not just digital signage networks.