Digital View, a manufacturer of LCD display controllers and digital media players, is presenting three new all-in-one combined LCD display and digital media player kits at US exhibition Global Shop 2011 later this month.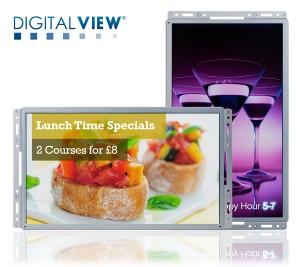 These slimline and lightweight 'open chassis' systems have no external enclosure, but have all the parts pre-configured and mounted on a single aluminum plate, ready to be dropped directly into any custom retail furniture, FSDU or shelf-edge promotional scheme.
Designed for optimum visibility in retail environments, Digital View have specially selected the high bright 10", 15" and 21" LCDs to ensure pixel-perfect image quality and extra wide viewing angles. The HD video content is perfectly delivered from an onboard low cost, ultra-reliable solid state media player (guaranteeing 100,000 hours of quality playback).
Digital merchandizing and the use of video content at the point of sale has been widely shown to dramatically enhance consumer engagement and drive sales. Digital View's digital merchandizing kits combine the very best in display technology with the very best in media player technology. With no internal moving parts and non-Windows architecture, these solid state merchandizing solutions offer lower cost and more reliable presentation than DVD and PC-based alternatives.
Digital View also offer a range of plug-in interactive accessories. Touch screens, motion sensors, buttons, barcode readers and anti-theft cradles can all be supplied as basic control options.  All interactive selections are automatically recorded internally within the media player and can be collected for market feedback and field reporting.
The whole range is supported with digital signage software (DV-Studio) for creating playlists and scheduling the video playback.  Content is updated either locally by USB stick, or optionally via local area network, internet or wireless connection.