Gail Chiasson, North American Editor
The Out-of-Home Marketing Association of Canada has announced changes to its membership structure to encourage other out-of-home companies as well as agencies, advertisers and suppliers to join the association.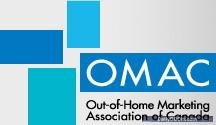 Until now, OMAC's membership has been composed of Astral Media Out-of-Home, Pattison, CBS Outdoor, Lamar Transit Advertising, Metromedia Plus, Newad, Titan and Zoom Media.
"OMAC has played an important role in marketing the OOH industry and is a central resource for information on OOH media," says Karen Nayler, leader; Mindshare Canada, and president, Canadian Media Directors Council. "There is a significant benefit for an OOH company to be a member of OMAC. It increases their visibility among busy media planners and buyers and as an OMAC member they can contribute to the development of new OOH initiatives."
The new membership structure now offers two classes of membership for OOH companies: Full Membership and General Membership. While the benefits are similar for both membership classes, the primary difference is that Full Members have the right to appoint a representative to the Board of Directors, and their annual fees are significantly higher.
In addition, advertising agencies, advertisers, educational institutes and OOH suppliers can now join OMAC as an Associate Member.
'The changes in OMAC's membership structure and fees make it accessible for both small and large OOH companies to join OMAC," says Rosanne Caron, OMAC president.
Since its formation in 2005, OMAC members have invested over $4 million on research, education and other programs to advance the OOH industry.
In Canada, OOH advertising revenues grew 15% from $491million in 2009 to $566 million in 2010. Revenue growth in 2010 was spread across a number of categories with the biggest increases occurring in apparel, cosmetics/toiletries, media, entertainment and automotive. Olympic advertising contributed significantly to OOH ad revenues.
Indoor digital boards especially have been rapidly expanding in resto-bars and fitness clubs across Canada. There are now over 1,000 digital boards providing coverage of Toronto, Montreal, Calgary, Edmonton, Vancouver, Quebec, Ottawa-Gatineau and Abbotsford.
The Canadian Outdoor Measurement Bureau calculates and publishes circulation data separately for indoor digital boards to provide media planners with the most precise data possible. The new COMB Market Data Report released in Feb./11 shows the high weekly impressions for indoor digital boards which is a result of their strategic placement in washroom and change room common areas. The average weekly impressions for digital boards in resto-bars ranges from 1,025 to 2,375 across markets. In fitness centres, the average weekly impressions for digital boards ranges from 11,100 to 24,400.
According to a 2010 study on digital OOH, 63% of Canadian adults 18+ claim to have taken action after seeing an indoor digital ad. The most frequent actions include visiting an advertised website, retail store, seeking out more information on a product/service and watching a TV program.