Adrian J Cotterill, Editor-in-Chief
RAM Investment Group's share price perhaps says it all…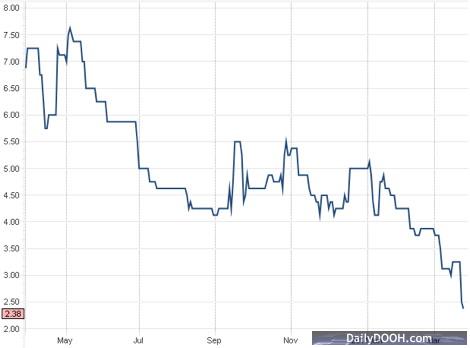 … and yesterday the group, which owns both TrainFX and RAM Vision had to issue a statement saying "current trading is in line with expectations" and that it saw no reason for the share price fall.
The statement to the Alternative Investment Market also made mention that its TrainFX contract with Wabtec was nearing completion, the delayed First Great Western contract was now progressing well and the LNWR contract had started deliveries.
In our world it said that RAM Vision had had a promising start to the year and advertising bookings were significantly higher than in the same period last year.
The group are likely to have further spooked the market with their announcement (which no doubt due to AIM rules and regulations thay have to make) stating that it "has been exploring funding alternatives to strengthen its balance sheet in the light of delays to the First Great Western contract and to maintain the site development programme within its Ram Vision operations" – that usually only means one thing and that's current shareholder dilution.
One suspects that as with ScreenFX, VMG and Avanti Screenmedia for those with a life in the public eye on AIM it can only go from bad to worse.
At 11:33am Monday (LON:RAM) RAM Investment Group share price closed down -0.25p at 2.25p