Adrian J Cotterill, Editor-in-Chief
We really liked the email late last week from the organisers of the '2011 OAAA/TAB National Convention & Trade Show' that was pretty much a big thank you logo sheet for all of their sponsors.
Part of that 'logo wall' if you will (we couldn't easily screen grab the whole thing) is shown below (click on the image and you should get the complete image with a full list of sponsors)…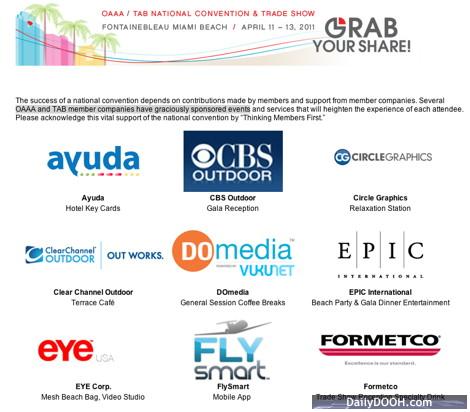 We quote "The success of a national convention depends on contributions made by members and support from member companies. Several OAAA and TAB member companies have graciously sponsored events and services that will heighten the experience of each attendee. Please acknowledge this vital support of the national convention by "Thinking Members First."
Anyone else think that it is interesting that the DOmedia / VUKUNET logos should be entwined together?