Adrian J Cotterill, Editor-in-Chief
Two new properties are being added this quarter to the Al Barq Digital mall network, expanding the regional footprint and putting the company on good track towards its 2011 growth plans.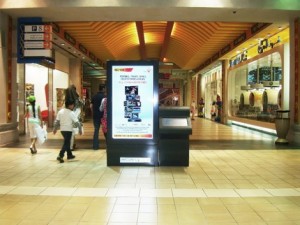 Al Barq Digital, the digital signage brand, owned and operated by Abu Dhabi Media Digital Out Of Home (AD Media DOOH), a subsidiary of Abu Dhabi Media, announced that it had concluded 5-year digital media rights agreements with a second mall in Dubai, and its first in Abu Dhabi.
These malls add to the Digital Out of Home network first established in Summer 2010 at the Dubai Festival City Mall.
Under the terms of the agreements, Al Barq will install its Digital Media Units (DMUs), switching on an additional 58 new screens in the region at Khalidiyah Mall, Abu Dhabi and Ibn Battuta Mall, Dubai. The Digital Media Units (DMUs) are equipped with dual 65" high definition LCD digital display screens used for mall advertising, as wells as 22" interactive LCD touch screens that help shoppers locate and navigate their way to stores and services in the mall. Both networks will be online by early April.
Following its launch in July last year, Al Barq Digital, is creating a fast-expanding digital network in prominent shopping malls, in the UAE. Andrew Wood, General Manager for AD Media DOOH, told us "These are the just the first of many new announcements we will be making in the weeks ahead. He noted that one of the most compelling aspects of these agreements is the ties they establish with some of the largest and best property and development groups. "We see these initial agreements as the start of some long, mutually beneficial relationships with some very impressive and powerful companies".
The new malls ARE: –
Khalidiyah Mall in Abu Dhabi is the first Al Barq network installation in the company's home emirate. Khalidiyah Mall is located in the densely populated residential area of Al Khalidiyah and is architecturally inspired by Arabic traditions. With its prime location, premium brands, exclusive ambience and world class facilities the mall has been conceived to ensure total shopper convenience. Khalidiyah Mall offers an expansive multi-cuisine food court, amusement arcade, cinema complex and three levels of elegantly laid out space with outlets, combining to give shoppers a uniquely memorable experience. The property is owned by the Emke Group, which also operates the Lulu Hypermarket chain. Eighteen screens and 12 kiosks are being installed in 2011.
Ibn Battuta Mall is the largest themed shopping mall in the UAE, designed based on the journeys of the famous Arabic explorer Ibn Battuta. The mall is divided into 6 courts, China, India, Persia, Egypt, Tunisia and Andalusia. Ibn Battuta Mall comprises of more than 250 retailers, 25 restaurants and food outlets, 21 cinema screens and the UAE's first IMAX theatre. Al Barq is installing 40 screens and 28 kiosks, as part of the agreement with operator Retailcorp Malls under Nakheel.
Livio Fabi, General Manager at Khalidiyah Mall said, "Digital signage is being increasingly adopted as an efficient and effective way of delivering targeted information to mall visitors. The challenge for us is the complexity of effectively aggregating the right information and delivering it to our customers in the right manner. Al Barq Digital's network is among the most sophisticated in the retail space: it is designed to enhance consumers' experience and boost advertising and promotion opportunities for retailers and property owners like us."