Gail Chiasson, North American Editor
One of the things we're looking forward to seeing at the upcoming Customer Engagement Technology World is the adjustable healthcare kiosk being exhibited by Connected Technology Solutions (CTS), Mequon, Wisconsin.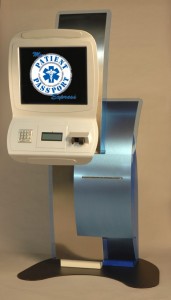 Believed to be the world's only adjustable check-in kiosks – geared for handicap access – the CTS kiosks were recently unveiled at the 2011 HIMSS Conference & Exhibition, the annual tradeshow for healthcare IT professionals in Orlando.
The new Patient Passport Express kiosk features an interactive touch screen module that moves with a 40" vertical range of screen adjustability, providing unprecedented access, convenience, and usability.
CTS healthcare kiosks save patients time, provide more privacy, and are more efficient and reduce overhead expenses for the facilities where they're being located. Patients can check themselves in for appointments, make co-payments, check and update their own medical records, print forms – even point out where the pain is!
The easy-to-move touch screen on the adjustable kiosk is as accessible to a person in a wheelchair as it is to a 6-foot tall person standing, and can be used by vision-impaired, hearing-impaired, or blind individuals, as well as those with limited dexterity. The anti-glare screen allows for use near large windows and skylights.
The new model is also a giant step forward aesthetically for healthcare kiosk design. Incorporating a sophisticated mix of materials and surfaces, the kiosk can be integrated into a facility's existing décor and branding with nearly infinite choices of customized textures and colors. The software and digital interface are also customized for each facility.
CTS will also be showing Burger King's award-winning Kids Activity kiosk, and the 'Tree', which, we're told, will be the most unusual kiosk being seen at the show.
In addition to its healthcare kiosks, CTS also offers Interactive Mall Signage that lets shoppers buy movie tickets, make dinner reservations, buy gift cards, get directions, get events news and tenant promotions; Workforce Kiosks – used by Idaho Dept of Transportation – which give truckers roadway info, print permits, learn about regulations; Milwaukee Welfare-to-Work kiosks in libraries and Goodwill stores that let underprivileged find public housing, jobs and training, access health resources.
Also at CETW, Sandy Nix, CEO of CTS, will be on the Tech Talk panel April 27, at 10:30 a.m. Stage B, discussing how to 'Use Technology to Improve Efficiency and Deliver a Positive Experience'.