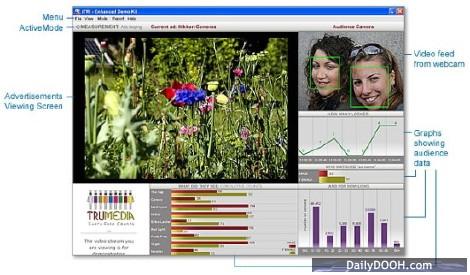 How long do you think it might be before we have an open source automated audience measurement software solution available for everyone to use?
Or to put it another way how long before the actual cost of this becomes zero (apart from the minor cost of a cheap USB camera) because it's getting pretty close to that already.
Last week saw yet another new entrant into the marketplace Intava [1] a self styled 'leader in interactive signage and systems for retail environments' but of course someone we have never heard of (we think they have a kiosk heritage) introduced, in their words "a new audience measurement tool that tracks consumers' faces as they look at interactive displays"
When Paris based Quividi [2] first showed us their technology 2 years ago they were the only game in town but now we are fast losing count of the solutions in the marketplace. Mind you none of them has made the sort of impact in the marketplace that they were expecting and to be honest we don't really see that changing any time soon.
Last week Trumedia made an interesting announcement and we think it's something that all screen network owners should try at least once. If enough of you try it and give feedback you may prove us wrong about the value of automated audience measurement systems.
Here's how it works…
Trumedia's iTRI, is a simplified audience measurement solution intended for experiencing and demonstrating proactive advertising (PROM) and face based audience measurement first hand.
iTRI has 3 modes: –
Audience Measurement: iTRI can generate up to 12 hours of audience data at a time
Content Based Reporting: Demonstrates TruMedia´s content based reporting capabilities using pre-loaded fixed ads
Proactive Merchandising: Demonstrates content targeting to viewers based on gender using pre-loaded fixed ads
It works with any standard USB camera though the Web Cam must support at least one resolution below 900*800 (width*height) – if you do not already have a camera, they recommend the Logitech QuickCam PRO 9000 [3] or the Philips Webcam SPC 1000NC series [4].
And the cost for all this is USD 9.95 a month.
We are not sure of the contractual obligations – hopefully there won't be any otherwise the offer is worthless (check the small print before signing up).
The biggest problem here is that the majority of off-the-shelf USB Cameras which folks will use, simply do not have any wide angle lens support – therefore in practice you could be losing hundreds of 'watchers' even with a well positioned setup.
If you do manage to get your hands on a wide angle webcam (there are some available from Logitech) then you have a secondary issue, one of resolution – webcam resolutions are not particularly high so your distance detection exponentially decreases with the wider you go.
This is why WuTuTu [5] developed their very own USB Camera and why Trumedia of course have iCapture (which is about as far away from USB as you can go).
Obviously Trumedia do not want to cannibalise sales or pitch this as an alternative to their iCapture solution (and they won't because of the USB camera issues detailed above) but we really do believe that iTRI might well speed up the network owners' learning curve with regards audience measurement.
Try it and let us know what you think.