Gail Chiasson, North American Editor
"The biggest challenge in the industry at this time is education of the marketplace about the opportunities that digital out-of-home technology offers," says Brian Ardinger, new president of the Digital Screenmedia Association.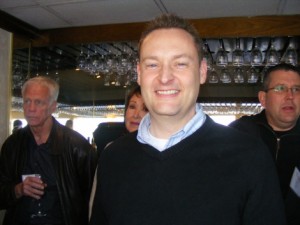 Ardinger, senior vice-president and chief marketing officer, Nanonation, Lincoln, Nebraska, gave us an exclusive interview during last night's DSA cruise, and we got the feeling that he has a pretty good handle on this industry and what the DSA will be dealing with this year.
Silos on the brand side are a big problem, says Ardinger. With all the multiple channels, it's difficult to know how to engage the customer and to leverage them.

"All major brands are looking for ways to manage efficiently. Advertisers are trying to figure it out," he says. "They're trying to understand all the players: networks, content, management, vendors, etc.. Now the role of the DSA is to all work together to find ways to engage the customer and at lower costs.
"A lot of companies put up screens because it's the 'hot' thing to do, but don't know what to do with them. They don't realize how to use content to reach certain audiences, to target.
"And with more companies in the business and more deployments, people are coming from all sides and talking different languages. We want to work on getting people to understand and to educate them on what's out there. We must educate all sectors, so we have to build on our platform. We have about 644 members, so must all get involved."
Ardinger is also concerned with government laws that often tend to stifle the growth of the industry.
"Advocacy is one of the pillars of our association and we have to make people understand and stand up for the industry. We want to be up front and member driven."
Among the things Ardinger says will be priorities this year are education; certification programs; networking; and the ways to interact with people in the industry.