CBS Outdoor UK has teamed up with tastecard, the UK's largest diners club, to launch a campaign showcasing the club's London locations on Cross-Track Projection screens (XTP) across the London Underground.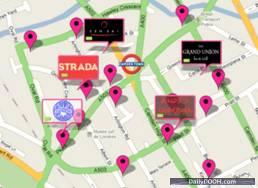 The campaign, launched this week, features 20-second video ads across 100 screens at 18 London Underground stations, comprised of maps detailing tastecard affiliated restaurants within 100m or so of Tube stations. The ads inform commuters of their current location and local restaurants they could visit in the vicinity using a Tastecard – perfect for office workers and visitors spending the day in the surrounding area.
Mike Hemmings – Head of Marketing, CBS Outdoor UK comments: "This is a fantastic example of how the creative flexibility of the cross-track projection format enables us to bring exclusive content to London's commuters. Through targeted and wholly relevant content, brands and advertisers can actively engage with commuters in a way that is informative, fun and effective".
The campaign ads direct commuters to a specific URL where they can sign up for a month's free membership. Membership entitles users to a 50% discount on their final bill from most of the 4500+ participating tastecard restaurants, including high-end dining establishments by Marco Pierre White, Conran and Mark Baumann, to popular favourites such as Pizza Express, STRADA and Cafe Rouge.
Jamie Milner, Founder of tastecard comments: "We're really excited to be working with CBS Outdoor UK on this campaign. In light of the current economic climate and the challenges that many restaurants are facing, we're confident that this collaboration can and will make a real difference. Using the XTP format was an attractive proposition as it is a great way to capture the attention of commuters at a time when they are looking to be distracted and engaged".