Adrian J Cotterill, Editor-in-Chief
Media Week published this story first and did a good job of breaking the news but we met these folks under NDA a few weeks ago and were pretty impressed.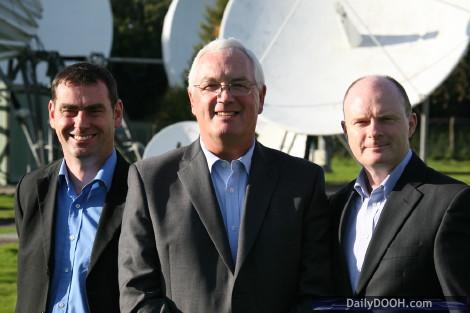 **We are really not sure about the name 'DIGICOM' though – there's something not quite right about it, especially with the media background and skills that these folks have.
HOWEVER we love their strap line underneath their logo '"Networking the Digital Outdoor Audience"
DIGICOM describes itself as "a Sales and Technical advisory platform for the growing number of private Digital Outdoor Network Operators in the U.K"
The new company which will start trading in January 2009 aims to grow Digital revenues and to deliver more credible and larger scale Digital Out of Home audiences to the buying community.
Steve Bond, Managing Director of Posterscope commented on the announcement "We have worked with Tom Goddard for many years and he is a respected and trusted Senior industry professional. The Digital Outdoor market is growing rapidly and quite a large number of the medium size Networks need to considerably improve their accountability and audience delivery standards"
He added "We believe DIGICOM can act as a catalyst for improvement in all of these areas and boost much needed National Ad revenues for those Networks who are prepared to raise their game. We therefore welcome DIGICOM's arrival".
Milly Glaister wrote in Media Week earlier this week…
Digicom launches to assist independent digital firms

LONDON – Former CBS Outdoor international chief executive Tom Goddard has launched Digicom, a sales house for independent UK out-of-home digital screen operators.

The new firm will start trading in January with a team of seven, including Tim Butler, former chief technical officer at CBS Outdoor, and Ralph Ahern, ex-commercial director at Titan. It will also offer technical advice and seek to promote universal standards across the digital network.

Goddard, executive chairman of Digicom, left CBS Outdoor in March to concentrate on the new business. "We identified a missing link between independent digital network operators and the buying industry of specialist agencies and media agencies," he said. "When a market opportunity opens up, you have to go with it regardless of what's going on elsewhere in the economy."

Digicom estimates that the digital outdoor market in the UK is worth £40m and this is forecast to quad-ruple by 2012. There are more than 100 independent digital outdoor networks operating in the UK and Digicom estimates that this amounts to 130,000 screens.

The new company aims to establish a minimum level of technical and delivery standards to remove delivery problems that can drain resources.

Goddard added: "The independent networks we plan to service need this more than ever because it will offer increased incremental revenue and reduced selling costs."
The UK needs a good, national sales focused, impartial / neutral digital media sales house – we haven't really had one for a long time now and so it will be great to see how they get on.
DIGICOM are already well under way in negotiations with 3 prominent media networks in the UK we believe.
** You live and learn. Peter Augusta from Fastrak Retail wrote in to tell us that "DIGICOM is the name of the company in the 1994 Michael Douglas movie Disclosure. The interesting thing is that the movie dealt with a cutting edge automate help software for a Database"
See http://www.imdb.com/title/tt0109635/plotsummary