Adrian J Cotterill, Editor-in-Chief
A digital, interactive advertising campaign was launched around London this week on outdoor advertising company Clear Channel's digital screens to raise money for homeless charity Thames Reach.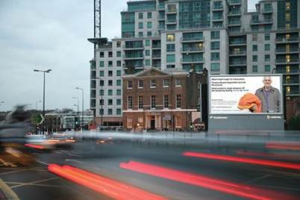 The campaign will encourage the public to help homeless people off the streets by making a text donation. The ads will not feature actors or actresses, but real homeless people. During the two week period of the campaign, fresh ads will be shown on LED screens donated by Clear Channel, showing rough sleepers on their journey to being helped off the streets by Thames Reach.
The advertising campaign has the backing of double Grammy Award winning recording artist Imogen Heap, who has donated a new track called 'Lifeline'. The public can download this once they have made a GBP 2 donation by texting the word 'home' to the number 70099.
Thames Reach has pledged to spend all the money raised on helping rough sleepers turn their lives around. Clear Channel will be showing different ads throughout the two week period on their digital roadside network across London. The campaign will be supported by a website, Facebook page and Twitter account (@homelesstext) and updates on each homeless person featured in the campaign will be posted on the Facebook page and Twitter feed so donors can follow their progress.
Comments made by members of the public on these social networking channels will be incorporated into the digital ads as the campaign progresses and will be shown on screens around the capital.
The campaign is the brainchild of Oliver Tiersch and Mar Broseta, a creative team at the newly launched advertising school, School of Communication Arts 2.0.
The idea came from Clear Channel's Quick Fire Pitch competition which was held at their annual Ideas Seminar. People, ranging from big multinational agencies such as Ogilvy to students, were given a chance to pitch their advertising ideas to top industry figures and their clients. Oliver Tiersch was the winner for his campaign to help homeless people by focusing on the profile of specific rough sleepers in different parts of London. His creative campaign struck a chord with the judges and audience at the seminar, and both Clear Channel and Thames Reach worked with Oliver to take the idea all the way through to the launch this week.
The campaign was created and run for free, thanks to people from the business, creative and charity world giving up their time, expertise and advertising space for free.
Visit www.homelesstext.co.uk, find @homelesstext on twitter or search for Thames Reach's Homeless Text on Facebook to receive updates on the campaign and for your comments to appear around London.