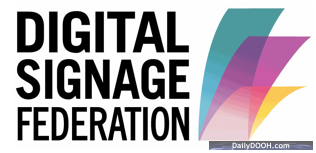 The Digital Signage Federation [DSF] has joined Digital Place-based Advertising Association (DPAA) .The DSF, founded in February, 2010, is a non- profit trade organization serving the digital signage industry.
In only one year, the DSF has grown to over 300 members in 33 countries including: Mexico, the Czech Republic, France, Germany, Italy, Lebanon, Portugal, UK, Slovenia, India, Israel, Japan, Korea, Malaysia, the Philippines, Russia, Taman, Taiwan, Vietnam, Argentina, Brazil, Colombia, Costa Rica, El Salvador, Jamaica, Benin (West Africa), Egypt, Ghana, Nigeria, TunisiaUS, Canada and Australia.
The mission of DSF is to ensure that meaningful growth in the digital signage industry continues in ways that benefit each of its members, and the industry as a whole. The Digital Signage Federation enhances open discourse of shareable ideas, educational opportunities, benchmarks for industry ethics and accepted modes of behavior and sanctioned certification- all which makes this immerging industry stronger.
The DFS provides a year-round education program for members and a full program of member services featuring a vertical industry outreach program to bring the digital signage industry's message to thousands of end-users.