It's a hive of activity at Earl's Court Two as you would expect on the last build up day before #ScreenMediaExpo. 
Although the DailyDOOH Blogger Lounge (Stand D39) looks sparse at the moment, a drinks machine all stocked up and some furniture is on its way.
We've already learnt of the imminent arrival of a towering display on the 10squared stand opposite, and although some of the Ayuda team only arrived at Heathrow early this morning, they have most things done already…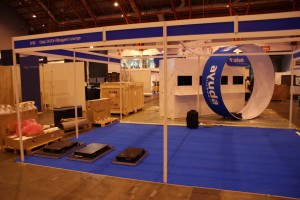 They are next door on Stand D37 – we're both waiting for some power, hopefully not much longer and we'll be all up and running.