Adrian J Cotterill, Editor-in-Chief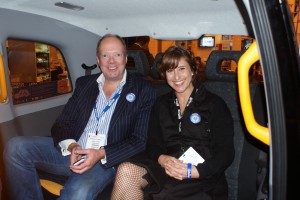 Motorised hackney cabs in the UK, traditionally all black in London are traditionally known as black cabs (although of course they are now produced in a variety of colours, sometimes in advertising brand liveries much like the Vodafone Union Jack livery we covered back in May).
Famous / celebrity users include Prince Philip, author Stephen Fry and errr us! Yes the DailyDOOH team has been offered the exclusive use of a black cab by Verifone for a day in London. See our post 'VeriFone Media VNET |Taxi'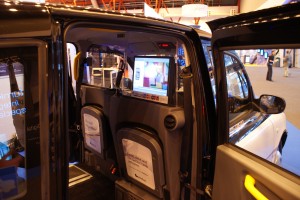 Not a company to readily accept 'freebies' okay okay okay we are and please keep them coming what we thought we might do, is blog from the back for the day – perhaps visiting all of the iconic digital sites around the capital and seeing what is running on each of them.
If you see a blue bird with a yellow beak driving a Black Cab around London next Tuesday 29th November please do wave (no, please don't give us the 'bird'). We are childishly excited.