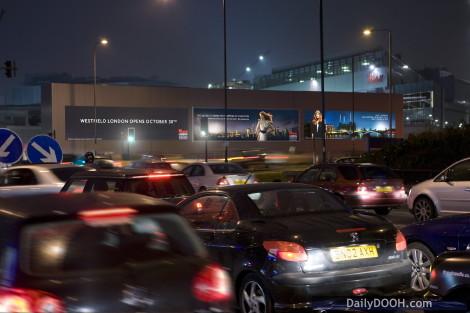 The much anticipated Westfield shopping centre in London opens this week of course (30th October 2008) and whilst CBS Outdoor are doing the insides (we will be reporting on that near 100% digital initiative separately later) it's Ocean Outdoor who have won the contract, worth an estimated UK PDS 70 million, to do the external advertising AND by the look of things we are going to see even more digital!
Ocean Outdoor's first advertising location comprising three digital screens has already been completed at the Holland Park Roundabout.
Damian Cox, their CEO told us that "the Holland Park Screens are just the start of a significant structural roll out in late 2008 / 2009."
About Ocean Outdoor

Ocean Outdoor specialises in premium, high-profile, large format outdoor advertising locations. Its mission is to secure the most sought after media platforms and provide an unbeatable service to both landlords and advertisers.

Ocean Outdoor's product portfolio is unique; it includes Britain's largest advertising site at London's IMAX and Scotland's largest banner and largest digital screens at Glasgow's George Square. Ocean Outdoor began trading in early 2005. Founded by Damian Cox, the company is currently the second largest operator in the UK banner market.