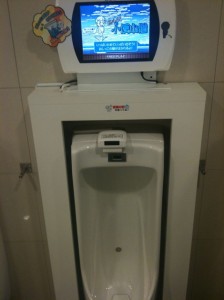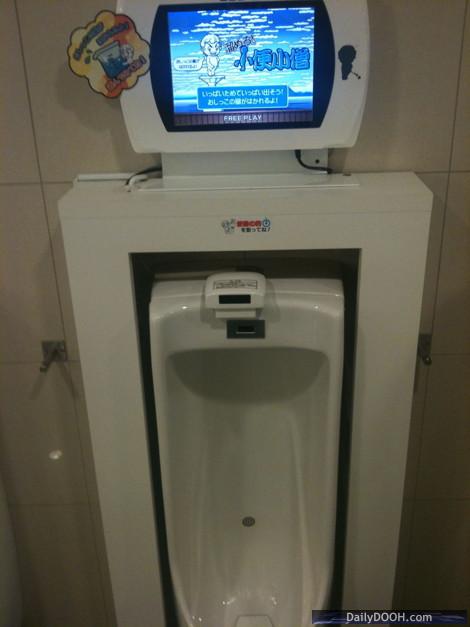 [1]A crowd pleaser here at #dsj2011 was the Sega urinal signage. Yes that's right digital signage in the shape of a Sega games console stuck above a men's urinal complete with a sensor.
SEGA's urinal game interface 'Toirettsu' (in English 'Toilet') encourages (a) peeing on target, (b) measures your urination amount and (c) helps keep the toilet clean (we assume due to the 'on-target' bit).
The device itself is a regular stand-up urinal with a sensor at the centre, which is activated when liquid (pee, wee, urine whatever) is jetted at it.
When you hit the sensor with urination, a gaming screen at eye level shows your score, estimated amount of your output, alongside various advertisements next to the game screen.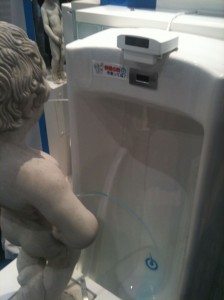 [2]The small display above the urinal measured 'output' in true video game style.
In the booth they had a small statue that seemed to be a cousin of Manneken Pis [3] (the little guy from Belgium) as shown here to the right.
Amazingly though, they actually had a urinal installed in the nearby mens room (no one we knew was brave enough to take photos) and anyone who stood in front of the only game urinal in the long line up was greeted by a voice prompt saying "This urinal will measure your volume of pee … This urinal will measure your volume of pee" – every few seconds until they got started.
This is definitely not for anyone with a shy (or indeed a weak) bladder AND still there is no word on who got the official high score.