BrightSign [1] of Saratoga, California, is presenting a retail showcase: a simulated clothing store where it demonstrates an enhanced shopping experience through digital signage.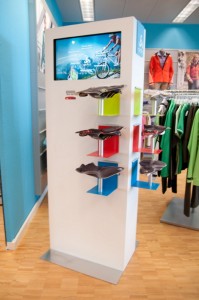 [2]Among the separate items on display are a seven-screen HD video arch, a touch screen floor kiosk, and a portable tabletop display.
Constructed with seven BrightSign HD1010 solid-state digital sign controllers driving seven 52" screens, the arch measures almost 20' across and 9' high. It serves as the entrance to a simulated specialty clothing store showing how retailers can enhance their customers' shopping experience. Using the free BrightAuthor software application, the seven presentations on the arch were easily created and synchronized to create a seamless playback effect.
Other leading-edge digital signage solutions that are showcased in the 'retail setting' are the newly introduced, all-inclusive BrightSign TD1012 portable tabletop display, as well as a sleek 6.5-foot floor kiosk with touch screen interactivity driven by a BrightSign HD1010w controller.
The freestanding BrightSign TD1012 tabletop display will be placed on a merchandise table to promote the clothing surrounding the displays as well as store specials and branding. Measuring only 10.5"w x 19.9"h x 9.9"d, the BrightSign TD1012 is designed fit easily on tabletops, at check-out counters, on shelves and desktops. It doesn't require a PC, any external power or wiring. In addition to featuring a solid-state player and a built-in portrait 12.1" high-resolution screen, the turnkey portable display includes a replaceable/rechargeable battery that provides at least 12 hours of battery life and Wi-Fi networking capabilities for remote content updates.
The floor kiosk will feature a touch screen jeans finder that enables users to match their style preferences with a particular fit of jeans. With built-in Wi-Fi capabilities, the HD1010w eliminates complexity, clutter and the restrictions of connecting cables.
MMD [3], the company that markets and sells Philips [4] Commercial Displays worldwide, supplied the seven Philips commercial-grade full-HD LCD monitors for the arch. A wholly owned company of TPV, its North America headquarters are in Roswell, Georgia, and its European headquarters in Amsterdam, The Netherlands.
Chief [5], a Savage, Minnesota-based division of Milestone AV Technologies [6], a Duchossois Group Company [7], provided the award-winning Fusion wall mounts for each of the screens and the digital media player mounts that hold the BrightSign players. Unique, eye-catching content for the video arch displays was provided by Oregon City-based Flixio [8].