Adrian J Cotterill, Editor-in-Chief
InAVate magezine do a fine job of sponsoring the International Booth at #InfoComm11 (this year right next door to the press lounge, room 206B) which is a haven for non US guests to relax, unwind, pick up free Wi-Fi and grab a coffee and a bite to eat.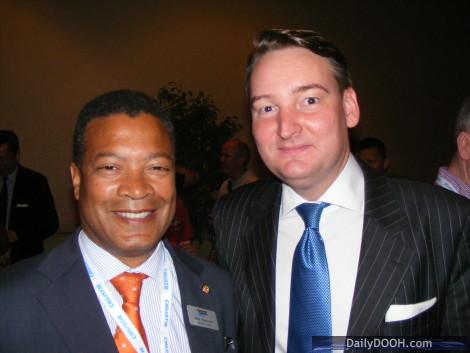 Wednesday evening also saw an incredibly well attended International drinks reception at 17:30. Above we see Mike Blackman, ISE Europe and Dirk Huelsermann, NEC DOOH Solutions Group (and President, OVAB Europe) at th event.
Interestingly 'international' we believe is more Asia than Europe these days. We are not sure if official statistics will bear this out but we reckon that due to the phenomenal success of ISE Europe, less Europeans are making the trip across the Atlatntic to visit InfoComm these days.