Adrian J Cotterill, Editor-in-Chief
IBM are being poorly served by the return of last year's live feeds campaign at Heathrow Terminal Five aimed at keeping passengers up to date with the latest Wimbledon championship information via the airport's digital panels.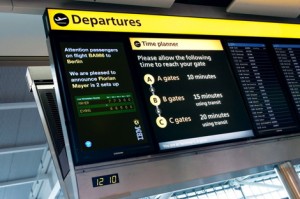 The airport screens, as they did in 2010, bring together two separate live feeds – departure information from BAA and Wimbledon progress updates from IBM – into one creative execution. The information shown is then linked to the upcoming flight schedule and refers to players from countries relevant to travellers in the airport at that particular time.
All very clever but they are missing one thing and that's colour. As The Imperative Group's Chris Heap pointed out here last year "Great idea; dynamic, targeted and live – all the facets that make Digital so compelling. So why did I have to read the screen to understand what it was trying to tell me? Where was the look and feel that instantly defines Wimbledon (e.g. Scoreboard/Green/Racket/Strawberrys) – iconic graphics that provides a visual context and a reason to view".
Both Rosemary Brown, UK Brand Advertising Manager and Brand and Identity Manager, IBM and Steve Cox, Marketing Director of JCDecaux Airport are obviously drinking the advertising agency Kool-Aid in their quotes respectively
"The digital screens provide us with a fantastic platform to connect with fans outside the tennis court, keeping passengers updated with the latest Wimbledon information right up to the moment they board the plane."
"The engaging copy and up-to-the-minute content keeps airport travellers in the loop with the tournament's progress, delivering an exceptionally relevant campaign which genuinely improves the airport passenger experience. "
This is a clever campaign but the copy blends too much into the other screens adn overall it could have been so much better.
The campaign was booked with JCDecaux Airport through Kinetic and Mindshare and will run across eighty-two digital screens located in the departure lounges and along the main walkways, reaching passengers throughout their airport journey.