The museum of contemporary art MACBA in Barcelona boosts a new video wall and digital information screens using AOpen and DISE.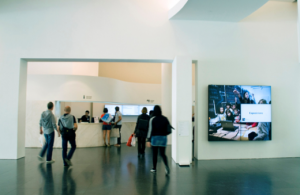 MACBA is one of the major tourist attractions of Barcelona. The MACBA Collection, which started in roughly 1950, consists of works from Catalonian, Spanish and International artists. Though not an anthology, it is a thorough overview of the fundamental aspects of Contemporary Art which hopes to promote both exercises and education in critical memory.
With this objective in mind, the museum made use of today's growing digital world with a new concept designed to strengthen the aesthetics of the space.
Euroservicios, a system integrator specialized in IT audiovisual digital signage software and hardware, carried out the installation choosing AOpen Digital Engine hardware and DISE software.
The screens at the information desk at the entrance of the museum, allow visitors to access all information quickly, avoiding unnecessary queues. The content is managed from a single remote location making it easy to change information on-demand, keeping everything up-to-date.
Next to the information desk, MACBA has a new six screens video wall with a total resolution of 2751 x 2342. The screens are powered by AOpen Digital Engine. All players are synchronized on the network by means of exclusive features offered by DISE software such as the ability to incorporate any type of format or file.
The complete system allows content to be updated in real time. Content can be scheduled to appear at a certain time hourly, daily or whatever time schedule you want. Thanks to the extensive features of DISE all players can be managed in a centralized and automated way. Features ranging from the ability to switch players on and off from a distance, to the ability to generate reports and playback statistics, are all of great benefit to the IT and marketing department.
Visitors reaction is positive and the sales of the museum have gone up since the implementation of digital signage.