Adrian J Cotterill, Editor-in-Chief
Christie does as it preaches and is showcasing its digital signage solutions using Christie MicroTiles powered by Scala in its offices in Wokingham.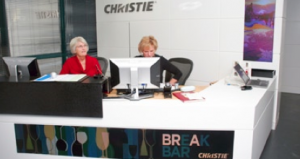 The reception desk and the waiting area have the modular displays welcoming and wowing visitors. In one wall Christie MicroTiles are arranged in the shape of columns besides the rear projection video wall that entertains visitors while they wait and they are also integrated in the reception desk creating a dynamic modern look.
But this is not all, Christie's new digital signage network uses more than 100 408 mm by 306 mm (16 inch by 12 inch) MicroTiles in nearly a dozen screens, plus four IAdea photo frames. In order to make sure all content was delivered efficiently Christie teamed up with  Scala to power a new digital signage network installation.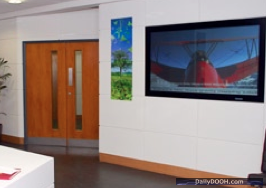 The network is centrally managed using Scala Content Manager, and Scala Designer software supports all content authoring. Specifically, Designer enables the creation of content templates for easy editing and allows integration with existing creative assets such as high-definition video, flash files and still images.
The main showcase room features a remarkable 80-tile video wall displaying content in any array or simply as one of many input sources. The screen manager can mix a limitless number of sources in multiple windows, create various Picture-in-Pictures (PIPs), and define, shape and blend borders.
"In addition to being the 'industry standard', we have a long association with Scala for on-screen advertising solutions in cinemas, so they were the logical choice to provide our advanced digital signage solution when upgrading our facility," said Dale Miller, Vice President, EMEA, at Christie.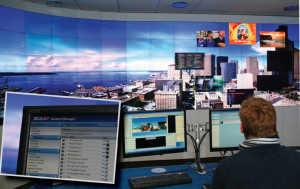 "Scala software can support any digital display need, even mission-critical business applications like Christie's," said Damon Crowhurst, Director of Business Development for Scala EMEA. "The company has the highest standards, especially when showcasing their best-in-class MicroTiles technology. Scala software enables the full impact of Christie MicroTiles to be seen."
Scala Services selected the Blue Chip Vario E2 media player to drive the displays. This hardware was selected in order to comply with Christie's high-level requirement regarding resolution quality for its MicroTiles. The Blue Chip Vario E2 ensures top-level graphics quality and playback performance.
"The high-level demands of the new Christie head office installation allowed Blue Chip Technology to demonstrate its decade-plus experience and the capabilities of our Vario player hardware in delivering yet another successful client project through partnering with Scala," said Mike Gulliford, Sales Director, Blue Chip Technology.