This art installation is not necessarily digital signage, but I think it's an interesting application of 3D mapping technology on a multi shape surface – which could be used also for signage.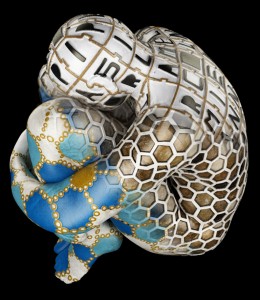 Production studio Drawlight in Padua teamed up with Italian plastic artist Rabarama to bring to life one of her most famous sculpture, Cocoon (Bozzolo). Using 3D mapping and 4 projectors, Drawlight created a changing skin for the life-size sculpture.
The 360° projection is part of Rabarama exhibition 'Anticonforme,' in Florence, which runs until the end of September.
"This is a first on its kind, it has never been done before. This piece allows art and technology to merge into one. The spectator finds him/herself disorientated while trying to distinguish the difference from what is real and what isn't" explains Mick Odelli, Drawlight co-owner.
Drawlight created a special software for this exhibition. The software allows the projectors to work in sync all the time. The installation can be switched off at night and the projection will be re-synced the following day without needing to adjust anything.
On the whole, this setup has several advantages. It is "portable ", it can be recreated in scale without the need to re-produce the content, and is designed in a way where the visitor cannot cast shadows on it.
"The visitor to this exhibition can see and touch an illusionary trick that has no end. It's a little magic where reality and virtuality clash in an inseparable combination," added Odelli.