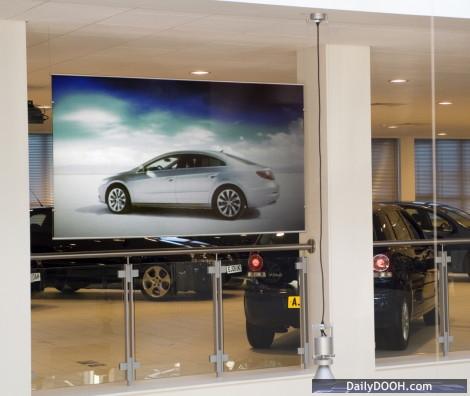 3M'S Vikuiti screens are not cheap but seems to be well worth it when you compare the quality of projection on it with competitive products
Creative Graphics International (CGI) have used Vikuiti screens in the Chelmsford and Milton Keynes Volkswagen dealerships
Steve Perry of CGI told us "We are planning to feature Vikuiti Screens in more of our work in the future as we regard digital signage as a complementary medium to static signage installations in this market – the two go hand in glove with one another"
The two digital displays were installed by CGI who are designers, manufacturers and installers of graphics and signage to the transport industry sectors, including automotive, aircraft and leisure-related transport such as boats, caravans and motorbikes. The company recently ventured into the digital signage marketplace as a reseller of 3M and is receiving great interest in Vikuiti Rear Projection Displays from customers, primarily in the automotive market.
About Creative Graphics International

Creative Graphics International (CGI) is a world leader in specialised branding solutions for commercial and automotive purposes. The company supplies both functional and decorative products to a wide range of customers spanning the global automotive, aerospace, leisure, and other transport related industries. CGI adheres to the highest levels of product performance. Its reliability, service levels, innovative design, and quality manufacture distinguishes it from others in the market. CGI is an international company with two manufacturing facilities in the United Kingdom (Bedford & Stratford upon Avon), and one in South Africa (Cape Town).