Adrian J Cotterill, Editor-in-Chief
London is seriously buzzed with excitement ahead of this evening's world premiere of the second part of Harry Potter and the Deathly Hallows – there are people camping out in Trafalgar square (some of them having been there since Monday) – aiming to get the best view of the cast and crew, including the three stars, who will parade from Trafalgar Square via a pop-up Diagon Alley to the Odeon Leicester Square in one of the most lavish send-offs in cinema history.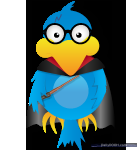 The DOOH folks have been hard at work as well and there's not a digital billboard in sight that doesn't have some reference to Pottermania.
Anyway, rumour around town is that one of the big OOH companies has planned something special for the actual premiere as well.
CBS Outdoor streamed live footage of a red carpet type event from Leicester Square before back in March 2009 (for the premiere of 'The Boat that Rocked') and our bet is something similar this time around from one of the other big OOH contractors.
Would anyone like to take any bets that a train station will be involved? We are guessing that the most likely candidate is JCDecaux's giant Transvision screens so be prepared for something magical to happen later this afternoon at Liverpool Street, Kings Cross, Euston, Charing Cross, Fenchurch Street, Waterloo, Victoria, London Bridge and St Pancras.