The idea was simple enough – a campaign, devised by Grand Visual and a collaboration of media, outdoor and creative agencies, was to feature live footage from Thursday night's star studded Harry Potter film premiere red carpet event and be streamed to JCDecaux's Transvision digital billboards at major train stations across London between 16:00 and 19:30 BST.
The campaign should be lauded but here's the view from Charing Cross station last night…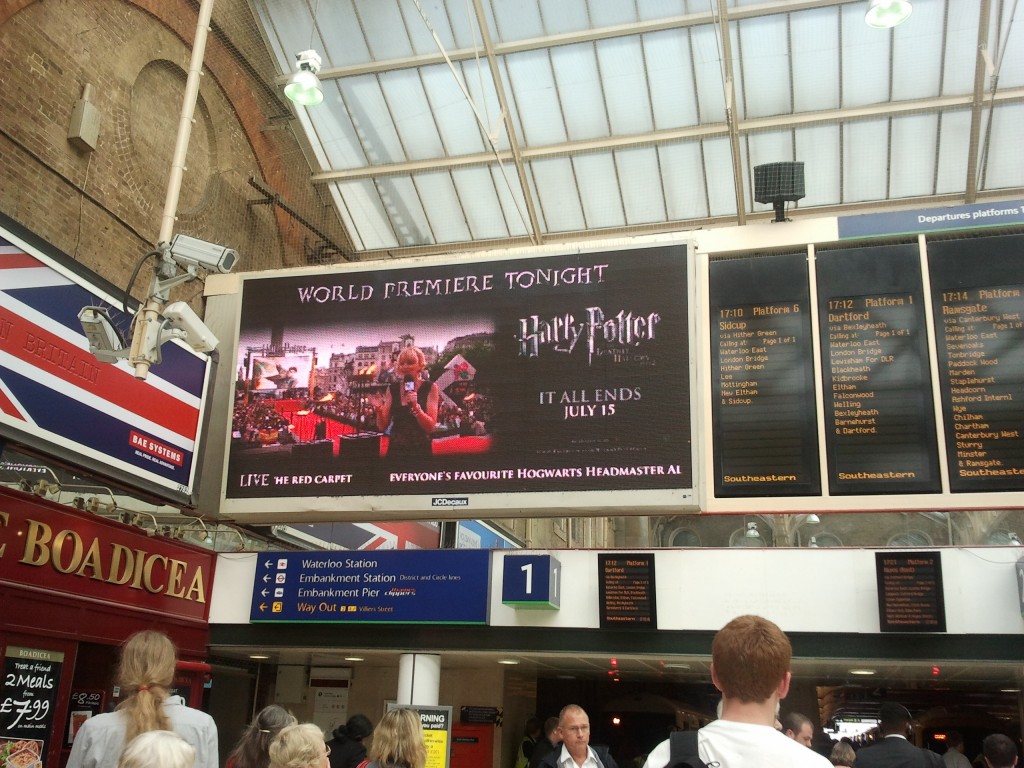 Up on the Transvision screen there's the red carpet all right but we can't hear what she's saying though (much to the chagrin no doubt of the #tickerfree2010 boys there was a live commentary ticker commentary at the bottom of the screen).
It was a good attempt to share with commuters the buzz at Trafalgar Square but it didn't really work (see also pictures from Euston and Liverpool Street). The video was not smooth becoming more like a succession of slides and the clips from the movie were quite dark and perhaps the biggest problem was that nobody was really paying attention to the screens up high – we were told that this was a a live stream downlinked from satellite feed, Ed
Now in Trafalgar Square (see below), there were hundreds of people, screaming and many dressed as wizards. A fenced area was reserved to VIPs and, although I was not allowed near it, a huge LED screen and banners with the photos of the stars was visible from outside. people were filming and photographing every move. The ambience was laden with 'magic'.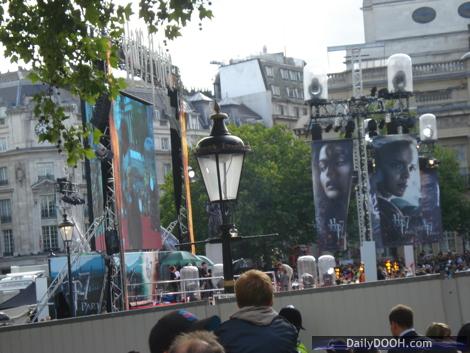 Dan Dawson, Digital Director at Grand Visual told us "Digital OOH technology and infrastructure now allows advertisers to run live and dynamic executions that can capture events as they happen and deliver an exciting and rewarding viewing experience." but this time the company that The Screen believe "has done the most to advance the DOOH industry in the last 12 months" probably overstretched themselves a little – both with the idea and with the technical implementation.